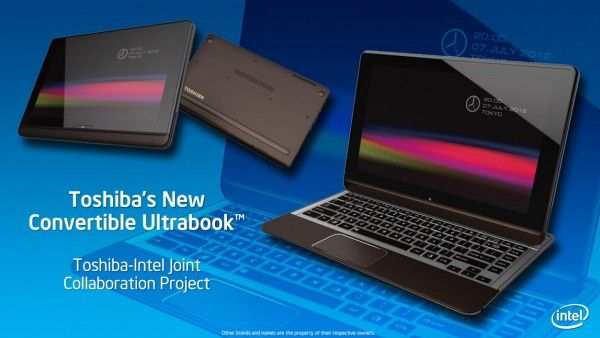 Shown off at Intel's keynote yetserday, Toshiba has a touchscreen slider Ultrabook in the works. There aren't any official details yet. Toshiba has told us that they will have touchscreen options ready for the Windows 8 launch, this could be one of them.
There's not much in the way of details aside from what we can assume: Ivy Bridge, capacitive touchscreen screen (at least 1366×768 is our guess), probably a backlit keyboard, and will ship with Windows 8. This is a Q3 or Q4 device.
The design is a collaboration between Intel and Toshiba. You can see it's introduction at Intel's keynote here:
And there's a closer video here showing a bit more detail and the sliding mechanism in action:
We'll be watching carefully for any more details on this, stay tuned!