According to an NPD report, Ultrabooks are selling well in some segments of the US market. In the Jan-May 2012 period they helped push an increase in sales of the $700 + segment and comprised nearly 11% of that part of the market.Month-on-month growth seems to be strong too.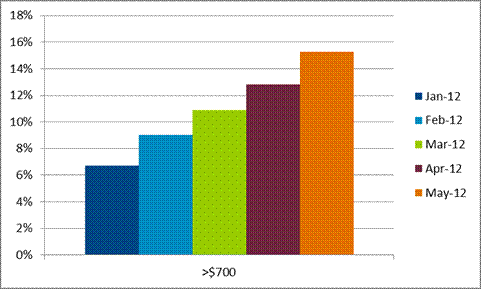 Soure: NPD
Overall the $700 segment represents  14% of the laptop market but profit per unit and profit margins are generally higher so it's an important figure.
Global Laptop/Mobile PC sales figures around the world range about 210-250 million units meaning, given equal sales figures per quarter and a similar spread globally, Ultrabooks are selling well under 0.5 million units per month. That's not too impressive.
It's too early in the year to get reliable global figures though. The big sales season starts soon with back-to-school and then the end-of-year push. The US market is obviously different to many other markets too. We'll also be seeing price drops based on the new competition in the market and another wave of interest when Windows 8 is released.
NPD reports that the average selling price of an Ultrabook in the USA in May was $885. Given that the new back-to-school models were first available in June, expect that number to drop a lot next time round.
Take a look at the trend in search too. There's big growth there as the Ultrabook search term moves closer to crossing over the declining netbook term. We've also seen a huge increase in the number of search terms people are using which indicates more detailed research. Affiliate sales through our buying tools are growing too.
Although the news is about the $700+ segment today, the indicators are positive for an impact on the whole of the laptop market in 2012 and we expect to be kept extremely busy through the 2nd half of the year.