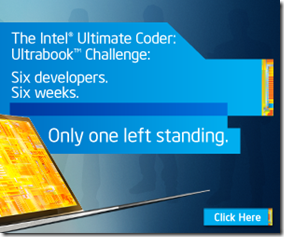 All 6 teams have now revealed what software they will be working on over the next 6 weeks for the Ultimate Coder Ultrabook Challenge and the chance to win $10,000. We'll be following their progress which we hope includes methodology, tips and demonstrations. During September we'll be meeting the developers and later in September we'll be judging all entries on a next generation touch and sensor enabled Ultrabook.
The Coders already have the Ultrabooks so we've also got our first chance to take a closer look at the hardware.
You can see a summary of what's happening in the Ultimate Coder Ultrabook Challenge at any time by visiting this Intel portal.
When I talk, write or think about touch-enabled, sensor-enabled Ultrabooks there's one word that I've thought about and written about more than any other and that's the word 'Dynamic.' As a judge It's something I'll be looking for in the application and user interfaces of the competing coder solutions. I've got transitions in my head, color, movement and something else that I think is important – the dynamic range of a piece of software. Does it work in a quick and simple 'snackable' mode as well as a bum-on-seat productive or efficient mode. Does it stretch to the four corners of an Ultrabook in terms of responsiveness, performance, efficiency and quality?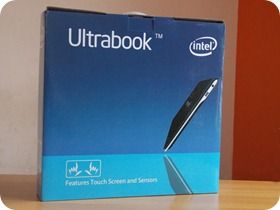 The hardware is what you might call 'demonstrator' or 'reference design.' You won't see this in the shops because it's an Intel build designed to show what's possible with Ivy Bridge, Windows 8, touch and sensors. It's built to excite show-goers and it's built for manufacturers and software developers. You won't be seeing any in-depth review, performance or side-by-side testing though because the internals are under NDA.
John and Gavin of Soma Games have put together a nice introduction with video which gives us an overview of the competition, unboxes the Ultrabook and introduces the software they will be porting to the Ultrabook – Wind Up Football.
Stay tuned for the take-outs at the end! Do these guys have what it takes to hold it together for 6 weeks?
Team Clef Software will be porting [hmm, no-one creating a new software package?] BioIQ for the challenge. Their opening post (we'll see at least one per week from each team) talks about their company and its focus on educational games. Ultrabooks are "a very promising device class for an edu focused game." they say. I agree 100%. Education is going to be a huge huge area for all types of Ultrabook. Team Clef are planning to give more details on the Ultrabook in a follow-up post.
Blue Innovations, the team comprising George and Suresh are going to port a version of their MoneyBag software. They've nicely outlined their vision here and I can immediately see that the responsiveness of an Ultrabook is going to help this app be usable. There's also a dynamic range in their vision that I haven't thought about yet – that the app is usable, and useful, for adults and children. I'll be interested to see this and to test that a simple child-focused UI doesn't get in the way for a productive adult.
"prepare yourself for a journey into the wonderful world of the software developer." says Lee Bamber of the Game Creators. His dedicated blog is here and introduces his ideas, the technology, the development kit, the 'drop dead gorgeous' Ultrabook, the app design and development methodology. Lee will be developing on the Ultrabook itself. I like Lee's openness. The coders have a lot to gain by winning but I want them to share their methodologies with the readers as much as possible so we can all learn and benefit. The more developers that are inspired to write applications for Ultrabooks through this competition, the better it will be for everyone.
Andreas Breitschopp, a coder I met in Munich a few weeks ago, is working on a vocabulary trainer app that I might find useful myself as an Englishman in Germany. He admits it needs better UI and touch capability. One interesting angle to this app is that it is completely HTML5-based. I hope that we'll get a feel for the cost and difficulty of developing HTML5 apps for ultrabooks and how they fit into Metro/Windows 8 Modern UI. Andreas has an article in English and has also posted in German
Shufflr is a social application for online videos already available on iPhone, Android and on Facebook and has over 1 million sign-ups. Their challenge is to move a small-screen app to a big screen, with a keyboard, processing power and all the sensors you find on a phone. Sagar is taking the lead on this for the Althea Systems team and he's already posted some thoughts here. Social networking on a laptop is difficult as the devices aren't 'always on' so notifications will never be live so I'll be interested to see how they work round that.
I'm a little disappointed that no-one is committing to developing a new software package as it could have given us some nice insights into the process but with 6 weeks to go, maybe that's too much of a challenge. I want to see information from the coders though that helps other developers. Show your tools and methodologies and think 'DYNAMIC.'
Good luck to everyone.
Who's Rocking It?
You can vote for your weekly favorite on the Intel micro-site here.
What are you looking for in touch-Ultrabook software? Leave us a comment below; It could help the participants.
All four judges are posting on these sites:
Helena Stone (Chip Chick) , Chris Maunder (CodeProject), John Rettinger (TechnoBuffalo), Steve Paine (Ultrabooknews)
Full disclosure – We are being compensated for advertising related to the Ultimate Coder Ultrabook Challenge and to attend an Intel event. We have commited to posting at least once per week on this subject and judging the final applications. All posts are 100% written and edited by Ultrabooknews.