I'm not a fan of wireless charging. I love the idea of cable-less operation but the inefficiencies far outweigh the advantages for me. Maybe I'm just too focused on mobile operation though because I agree, there's a case for desk-top charging while working. Even though, wouldn't it be easier to just have a separate charging mat?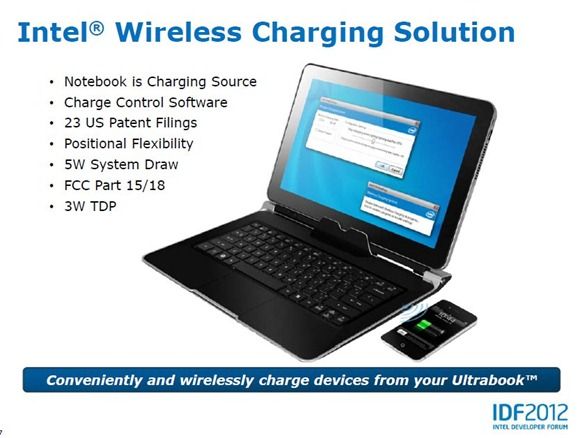 When you charge your laptop you lose around 30% of the energy through AC-DC-DC-regulation conversions. That's quite a chunk of energy. When you power your laptop from the battery you lose again in DC-DC conversion. 10% is a minimum. Charging a smartphone through an inductive loop from a battery is about the most inefficient method I can think of this side of solar energy. Not only are you going to lose over 50% of the energy going from one battery into another, you've also had to pay for the cost of the inductive charging mechanism and control circuitry. Considering nearly every smartphone can be charged via a USB cable and that every Laptop has a USB port with most Ultrabooks having Sleep 'n Charge, do we really need this?
Wireless Charging was a theme at IDF in Beijing and I presented the solution in an article shortly afterwards and I see I also covered health and safety. I personally don't get too worried about that but I can imaging more costs creeping in on the approval process.
I see why Intel is looking at it – offering compatible charging solutions on Ultrabooks, Tablets, Smartphones and Smart Watches provides a nice value-add and lock-in feature but the realities of it are that it's a waste of energy.