I've already looked into wireless charging but at IDF2012 I got a chance to speak to the engineers about it and get a first-hand demo. Video below.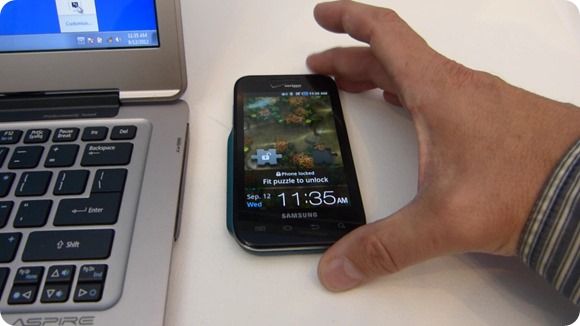 IDT are the company that is producing the first integrated TX/RX unit and you're going to see it in solutions next year. Obviously it needs both Ultrabook and phone to have the same 'standard' and there won't be many choices out there to start with. Intel phone + Intel laptop is going to limit you but there's a chance we'll see mice, headsets and other devices using this method. The Intel Smart Watch demo was cancelled at IDF but I 'm guessing that was going to be a wireless charging demo – just look where your hand spends a lot of time when you're using Win 8 touch!
In the video below I talk about efficiency and I note that Intel have updated their end-to-end efficiency prediction.
Before IDF:
After IDF:

You'll also see  the software which prevents wireless charging from occurring if the battery is below a set level.
I still don't like the efficiency aspect of this but I have to agree it's a very attractive method of charging a phone.