There's nothing better for software innovation than getting a bunch of software innovators together, adding some hardware experts, some visionaries, a bunch of cool hardware, feedback from consumers… and a few glasses of alcohol. That about sums up what happened at IDF last week. Without reading any of the Ultimate Coder Ultimate Challenge blogs this week (see more below though) I know that all of the teams were stimulated to make changes, add features and optimize others. It's late in the game (only 2 weeks to go) but I'm sure that there will be a few beta's that get feature upgrades. Dangerous!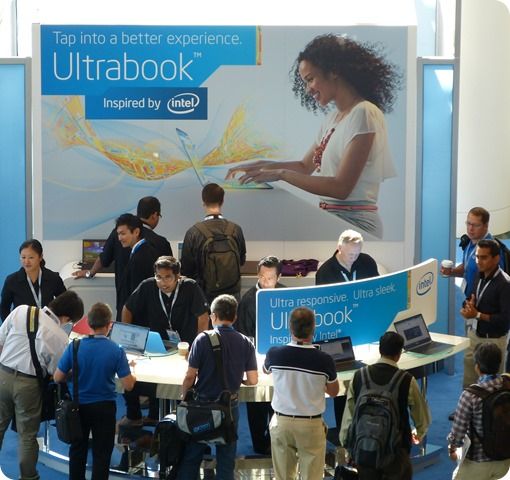 It was an absolute pleasure to be out in San Francisco to meet the teams. The Game Creators brought sweets and hats, Blue Innovations were quick to give me a demo over a beer, Soma Games got me into a great discussion about how I started (and stopped) coding, Althea Systems took away some feedback about the 'hot' areas for Ultrabook touch and Andreas and I had some great time discussing Ultrabook futures. The only team I didn't get any real time with was Clef Software so let's start with their update for the week…
Last time we talked about Clef Software they were working on submission to the Windows 8 store. This week they've progressed that, confirmed that in-app-purchasing is possible and also started the process of submitting to Appup, the Intel store that will be focused on advanced Ultrabook apps. They've also started implementation of in-cloud state synchronization. It's something I've written about as part of my talk on HDR Computing. Clef Software's update post is here.
Soma Games declared feature-freeze a few weeks ago but because of IDF, the CTO has agreed on a few changes.  The changes haven't been detailed but the keyword here is 'contextual computing.' With the Ultrabook getting more sensors, there's more opportunity to know where the user is and in what scenario the Ultrabook is being used. I'm really looking forward to seeing what Soma Games come up with here and hope they have the time. Soma Games' update post is here.
Andreas Breitschopp and I had a great chat over lunch at IDF. He also advised me to upgrade to Windows 8 RTM on the Ultrabook to fix some bugs. I'm reluctant to do that on an Ultrabook that appears to be working 100% for me but when I come to testing the software that pushes the limits of the Ultrabook I guess I have no choice! Andreas has been working on the UI this week and made a good change to the layout by removing multiple, duplicate flags. There's now more information on the screen and it looks a bit more serious…which I like. Andreas' update posts is here.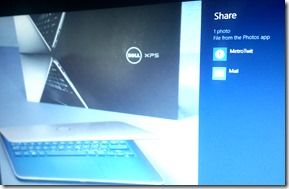 Lee Bamber and I talked about a lot of different things at IDF but I was pleased that he took on my suggestion to look into the Windows 8 app sharing subsystem. Apps can register capabilities with the system and become part of the sharing architecture. It makes complete sense for Lees messaging app and I hope he can tell us more about how it's implemented next week.  Lee has also implemented a 'live tile' in his application – another good feature of Windows 8 Metro.  Lee also recommends updating to Win 8 RTM! Update post, with more than I've mentioned above, is here.
Althea Systems already have a version of their Shufflr app in the Windows 8 store and within a minute of discussing it at IDF we had it loaded on my Ultrabook. It's not the fully updated Ultrabook version yet but it's good enough that I've wasted a lot of time playing with it.  My first feedback would be to think about the touch 'hot spots' on the Ultrabook. Sufflr have some of their controls in 'cold' areas which could degrade the experience for Ultrabook users. I would also love to see a pinch to zoom feature that shows more than one video per screen. It feels like a waste to see one item when I've got 1.4 million pixels available on a 13.3" screen. They've added a 'geo' feature to the application and multi-touch gestures. There's more to come this week too as their post-IDF article is running late! Latest update here.
The Blue Innovations team hasn't managed to push out multiple posts this week (phew!) because of IDF commitments. I completely understand guys – I've still got a long list of articles to post from IDF! What they have posted is worth a read though. I'm jealous guys – you got to meet Greg Welch!  Check out the Blue Innovations post for info on thei NFC feature and a look into next week and another 'secret' feature. I wonder if it was inspired by IDF2012! Full post here.
So it seems that IDF2012 should have been the start line for this competition because it's been so inspirational it's become disruptive! The teams are going to have to deal with it now and make important prioritizations for the final  run over the next weeks. I'm looking forward to testing all the apps.
Finally I would like to say hi to the ChipChick team who I had a chance to meet last week. Big ups! (I think they say out in the USA!) to Scott and Helena. Chippy loves ChipChick!
Oh, and thanks to Intel. They brought me out to IDF and looked after me well. I learnt a huge amount, some of which is already up in post or video form.
Full disclosure – We are being compensated for advertising related to the Ultimate Coder Ultrabook Challenge and to attend an Intel event. We have committed to posting at least once per week on this subject and judging the final applications. All posts are 100% written and edited by Ultrabooknews.
All four judges are posting on these sites:
Helena Stone (Chip Chick) , Chris Maunder (CodeProject), John Rettinger (TechnoBuffalo), Steve Paine (Ultrabooknews)