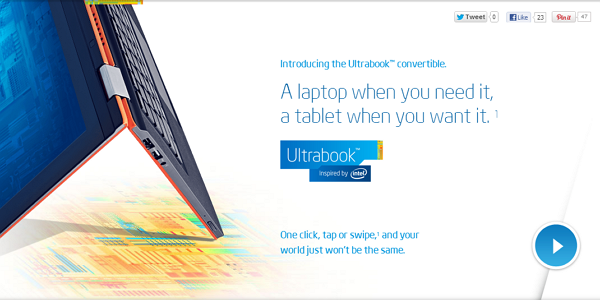 Intel has made live a significant refresh of the Ultrabook section of their website. If it wasn't already clear from their $300 million Ultrabook fund, Intel is serious about Ultrabooks; the redesign of their site's Ultrabook section is quite significant next to the old version and reinforces their commitment to the segment. The launch of Windows 8 and a wave of new devices provides an great opportunity that Intel is using highlight some of the most interesting new devices to hit the PC market in several years, most of which are Ultrabooks.
Intel has split the new site into 5 sections which highlight Ultrabook features. The first section, and the one that Intel is now pushing hard, is Touch. Equally as emphasized is the next section, Covertible to which Intel has affixed a new tagline 'Laptop when you need it. Tablet when you want it.'
Each section has a 30 second video spot to accompany it which makes them suitable as potential TV adverts (Chippy pointed out the videos separately the other day).
The videos are hit or miss. The spot from the Responsive section is probably the standout for me, but I could see a lot of people not quite getting it:
The worse of the bunch in my opinion comes from the Performance section and it goes completely over my head:
These were shot as 30 second segments but I don't think they're quite 'TV material'. Hopefully Intel keeps these on the web. A proper mainstream TV ad needs something with a bit more appeal and substance.
Shop Ultrabook
The new 'Shop Ultrabook' section has been rebuilt and features new Windows 8 Ultrabooks from every major manufacturer, and then some: Acer, Asus, Dell, Fujitsu, HP, Lenovo, Samsung, Sony , Toshiba, and Vizio. Of the 10 featured Ultrabooks, seven are touchscreen. Of those seven, five are convertibles. Ultrabook offerings from 10 leading PC manufacturers is a huge win for Intel and their Ultrabook project and there are yet more from Ultrabooks from other companies that aren't even on the list. Here's all of the Ultrabooks they are highlighting with links to specs in our database: