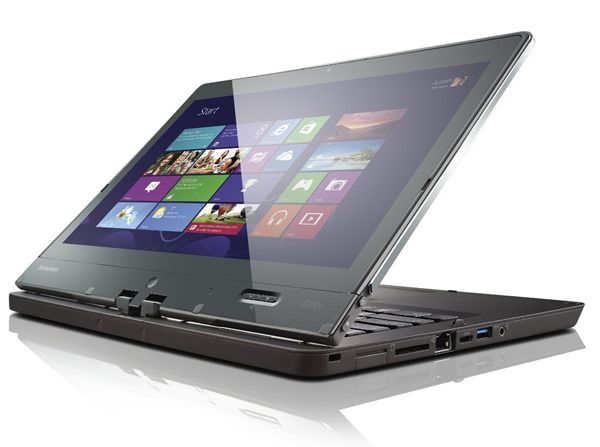 The Lenovo Twist / Edge S320U / N3C27 has surfaced. It's a convertible Ultrabook with 12.5" 1366×768 IPS rotating screen, hybrid hard drive, 48.8Wh battery and a weight of 1.57KG / 3.46lb. Pricing starts at $899 in the USA, around the same in UK pounds and early indications point to about 1050 in Euros.
Looking almost a little old-school with the convertible hinge display the Thinkpad Twist could make an interesting road-warrior machine. Storage, ports, screen all offer good options for usage scenarios. On-screen power, lock, volume and Windows 8 buttons help too. Track Point lovers will be happy with the keyboard!
There's an SSD version and Core i7 version available but we don't see any battery options. The 48.8Wh battery should do well for 5-6hrs of working.
The image above is interesting as you'll see a similar use case to the Yoga, but for a cheaper price.  We get the impression that Lenovo, like many others, are putting out as many designs as possible at launch.
Full specifications, some links, a few videos and your comments in the Ultrabooknews database, Lenovo Thinkpad Twist information page.
Via Notebookitalia