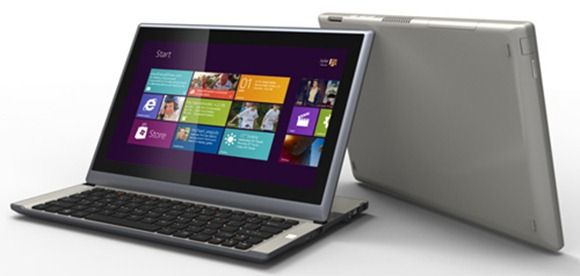 MSI appear to have quietly given the MSI S20 slider an airing. We first saw this back in June in a not-too-professional presentation by themselves but despite that it's been one that has gained quite a bit of interest. Recent news highlighted a target price (yes, the good old non-committal target price!) of $799-$899.
Engadget and LesNumeriques have news for us…
MSI might just have hit their target price if Les Numeriques is correct. They don't quote a source but they say the MSI S20 coming in November for €829. A high-end model will come in December for €1049. It's strange to hear of a manufacturer releasing the cheaper version before the more expensive version. The basic version will be a Core i3 model.
Information, specs, links, images, videos – MSI S20 in our database.
In another hands-on, Engadget have revealed a bit more. They're being told the MSI S20 will come with Core i5 at $1099 in late November. 4GB RAM, 128GB SSD, FHD screen and a 45Wh battery. Weight hasn't been confirmed so we're still assuming it's near the 1.3KG / 45oz we heard before.
Check out a nice hands-on video and photo-set over at Engadget.
If you can't wait for the MSI S20, there's always a few other slider Ultrabooks you can choose from. Which one do fancy?
Also Via – Notebookitalia