There's a new type of laptop in town. It's fast, fun and flexible and it's called the Ultrabook Convertible. Intel's new ads started running at the weekend so we're guessing that there's quite a lot of people on the search for more information today.
Welcome new visitors, you've come to the right place. We've got all the Ultrabook Convertibles in the database along with specs, news, videos and more. We're updating daily. Click on the image below to see the latest list or read on for an overview of the types of Ultrabook convertibles coming to the market.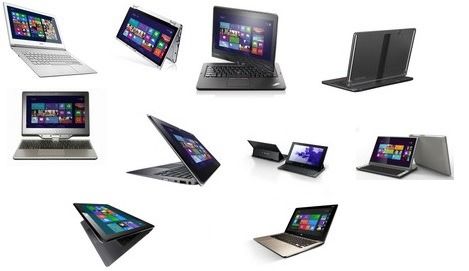 View and compare all the Ultrabook Convertibles here.
The selection of touch and convertible Ultrabooks breaks down into four areas.
Slider Convertibles
This type of Ultrabook Convertible is a single unit device where design looks like a tablet. The screen is able to slide back to reveal a keyboard. Generally the keyboards and mouse pads are a little smaller than with a traditional laptop.
Rotating Screen Convertibles
This type of Ultrabook uses a hinge to rate the screen. They remain single-unit laptops but have two advantages. The hinge doesn't normally affect the keyboard and mouse area. Rotating screen devices can sometimes be good for presentations on a smaller table.
Examples of ratating screen convertibles here.

Dockable Tablets
In this type of design the screen can be removed from the keyboard 'dock' and used as a tablet. The advantage is that the tablet is lighter than the single unit solutions although in most cases the built-in battery on the tablet will be smaller than on single-unit designs. Some docking stations include additional batteries that can re-charge the tablet.
Examples of dockable tablets here.
Fixed screen touch Ultrabooks
AS you'd expect, these are traditional laptop-style Ultrabooks that have a touchscreen. They are not convertible.
Examples of fixed screen touch Ultrabooks are here.
For the latest list of devices you can use the interactive Ultrabook database and select the form-factor you are interested in.
For more information on Ultrabooks and their features, see this Ultrabook buyers guide. If you have questions, the team at Ultrabooknews is waiting for your questions in the Ultrabook forum.