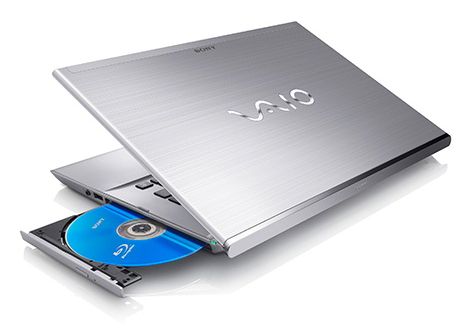 Sony is now offering a Vaio T14 Ultrabook, a 14″ version of the company's Ultrabook line. It joins the aptly named T11 (11″) and T13 (13″). This one slipped under our radar last month amid the flood of Windows 8 Ultrabooks being announced. Sony unfortunately missed an opportunity to add additional features to the T14, instead opting to included a dated optical drive.
I have a USB optical drive as my Ultrabook lacks one of its own. As far as I can remember, I've never once used it. Optical drives are quickly going the way of the floppy drive — in my experience they already have!
This is why it's somewhat disappointing to hear that the only thing Sony added to the new larger T14 was an optical drive. They could have added more ports, powerful discrete graphics for gaming and multimedia, or even a higher resolution screen. Unfortunately there's none of that!
The new T14 Ultrabook is like the T13 in pretty much every way except for the optical drive. Admittedly, adding a discrete GPU would have been a bit more complicated than just slapping it in there. Still, we think Sony should have taken the opportunity to at least bring the USB count up to three (which I would personally trade the optical drive for, given the choice).
That's not to say that the T14 is likely to be a bad product — in fact we really liked the T13, especially considering the starting $669 price — we would have just liked to see some real differentiation between the two models.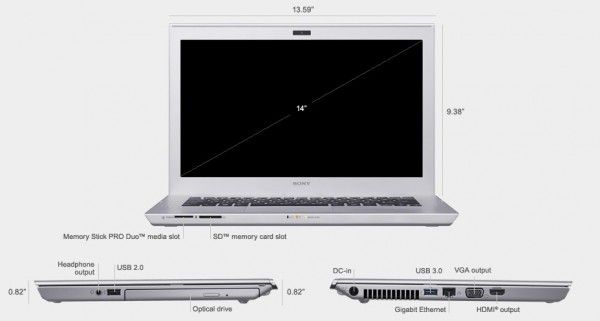 The T14 starts at $669 as well, and that price will get you a Core i3-3217U processor, 4GB of RAM (1600MHz), 320GB HHD, and 14″ 1366×768 display.
For an extra $70 you can jump up to the Core i5-3317U, or for $220 more you can get the Core i7-3517U (technical comparison of all three available processors here). You can upgrade the 320GB HHD to a 500GB HHD for $30. SSD options are 128GB, 256GB, and 512GB and get quite pricey fast; the HHD will work just find for most users.
RAM options are 4GB, 6GB, or 8GB (all 1600MHz). You can also upgrade the optical drive to a Blu-ray player for $100. All variants come with Windows 8.
The port set is essentially identical to the T13: 1x USB 3.0, 1x USB 2.0, full HDMI, full VGA, ethernet/LAN (RJ45), full SD, and 3.5mm headphone jack. The only thing that's been added is a separate Memory Stick PRO Duo slot, although this was combined with the SD slot on the T13.
Thanks to a discount on an i7 upgrade you can actually get the Core i7 processor with 8GB of RAM for $889 which is a pretty good deal!
It's somewhat understandable that Sony didn't add the options we were looking for to the T14; the company still touts it's Z-series as its premium ultraportable, although the Z-series isn't an Ultrabook proper. It seems Sony doesn't want to force the T-series into a position where it is competing with the (much more expensive) Z-series.