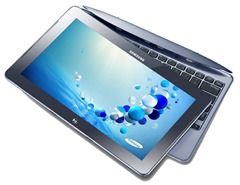 There have ben some great reports on the Samsung ATIV SmartPC over the last week. Battery life looks really good and reviews are generally very positive. There was even a comparison with the Microsoft Surface over at Winsupersite that put the Windows 8 tablet out front but that  doesn't mean it's a perfect device. There have been complaints of lagging digitizers, troublesome keyboard dock connections and this disk speed test, just in from our friendly ATIV owner, MobileHG, shows up another area of weakness. These figures may be acceptable in a world of tablets running a mobile operating system but in the world of PCs, these sort of figures were bad even 3 years ago. See the CrystalDiskMark results below.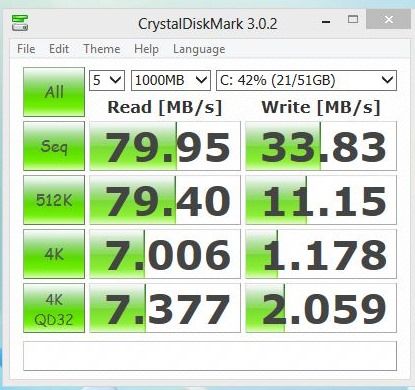 Just to put these into perspective the Ultrabook I'm using at the moment can read at a maximum of 400MBs and write 4K blocks at 25MB/s. Note that those figures are high, even for an SSD-based Ultrabook,  but I'd be looking for at least a 4Mb/s 4K write speed and 100MB/s sequential read speed for a desktop PC. There's room for improvement here.
Part of the problem is that we're not talking about traditional SATA SSDs and controllers here. The storage in all these Clover Trail these devices is eMMC technology which includes a more complex controller on board. eMMCs just aren't as fast as most SSDs you'll find in a PC but they're smaller and require less power.
Speaking to Hector about real-world 'feel' he say that it seems good despite what he agrees are poor storage speed figures. Cyberlink PowerDirector, a fairly hefty bit of video editing software, starts in 10 seconds. Windows 8 could be doing a good job of memory caching in order to reach that figure and yes, we shouldn't take synthetic figures and put too much weight on them. Even so, it's made me think twice about the ATIV. I'll be looking for disk speed results on the other Clover Trail tablets before I make a decision on what I consider the best buy.
There's one other point that needs to be made. These speed figures will blow away anything you get on a mobile OS tablet but when it comes to those desktop Windows 8 operations, faster speeds would be welcome.
Note: The eMMC is soldered on the motherboard on all eMMC-based devices, and that means all CloverTrail devices.
In summary we've got a very good eMMC result here but one that could hinder large-file or heavy multitasking read.wrote operations on the desktop.
Don't forget to subscribe to Hectors YouTube channel here. Follow him on Twitter here and check out hisblog here. Thanks Hector