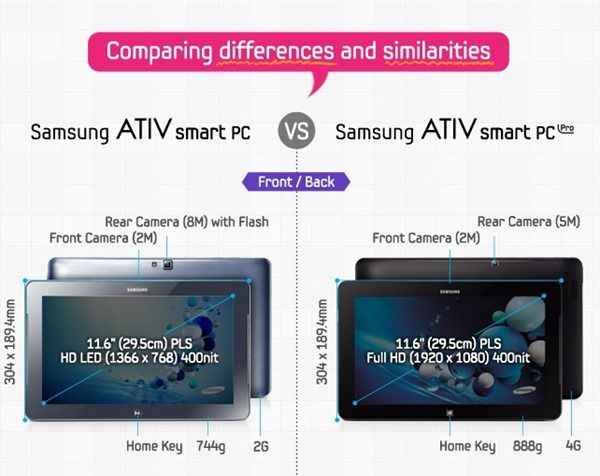 The Samsung ATIV 500 and 700, also known as the SmartPC [details] and SmartPC Pro [details] haven't haven't been the easiest devices to track through tradeshow and launch events. First highlighted as the Series 5 and Series 7 slates the device names have been cleaned up a little now but we're sure there's at least some confusion remaining. Maybe that's why Samsung have produced an infographic to guide us through the features and differences.
Essentially you'll be choosing between a mobile, long battery life tablet running on Intel CloverTrail (the ATIV SmartPC / XE500) or a heavier desktop-replacement-capable tablet running on Intel Core i5 (The Ativ SmartPC Pro / XE700) The latter has a higher quality screen.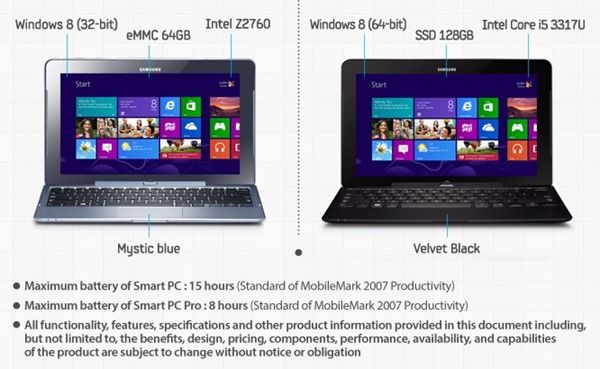 One thing also missing from the infographic is the information that the Ativ SmartPC Pro doesn't have a battery in the keyboard. Considering the cost of the 'Pro' product, the need for a larger battery and the bigger need for balancing weight in the keyboard, it's a surprise. Samsung will, no-doubt, point to the Atom-based model as the solution if you want battery life.
Both tablets have a digitizer layer and a pen  known as the S-Pen. It comes with a few S Note apps…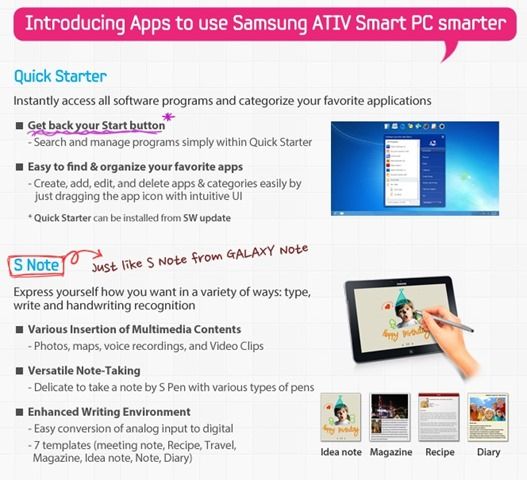 Pricing between the two is quite different and that's obviously not mentioned in the infographic. There's a Pentium version of the SmartPC Pro too which, according to some retailers, has a 1366×768 screen. In some areas 3G is available for mobile data.
You can compare the two Samsung Ativ SmartPC products in our database here.
As for availability, we haven't seen evidence of the Ativ SmartPC Pro anywhere yet but the Ativ SmartPC on CloverTrail is already filtering into markets.
Battery life vs Processing power. Which Ativ Smart PC would you choose?
Source: Samsung (Global)