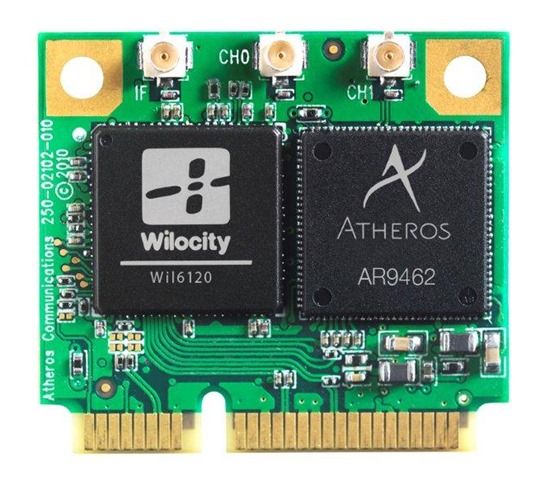 Qualcomm and Wilocity have just released details of the tri-band Wireless card that's coming to Ultrabooks. The card is already in the Dell 6430u that was announced with WiGig a few weeks ago and Wilocity think that we'll see many more Ultrabooks, along with peripherals that include wireless docking stations, in 2013.
The intra-room networking standard that provides 60Ghz multi-gigabit networking along with implementations of USB extension, PCIe extension and video extension profiles, is almost ready to go and Wilocity and Qualcomm-Atheros have already teamed with Dell to implement their new half-height PCIe-mini card in the 6430u. WiFi-n, BT4.0 and WiGig networking and PCIe extensions are on-board meaning you've got some pretty flexible and powerful possibilities there. Think external 3D graphics cards driving multiple monitors for a much improved gaming experience.
We had a chat with Wilocity yesterday and they're very excited about 2013. 'The year of WiGig' they say and with connectors on Ultrabooks becoming a serious issue as thicknesses increase (think about the space taken by connectors inside the unit too!) the Ultrabook is the perfect place to start.
The Dell 6430u isn't a consumer Ultrabook but Wilocity see WiGig reaching the consumer space within 2013. That all-in-one card is certainly going to help.
We asked about power requirements too although to be fair, WiGig is more likely to be used on a desktop scenario given the close-range nature of the protocol. Under load, WiGig will add a few watts, maybe 2.5, to the drain which is around 7-10% additional load on an Ultrabook if you leave the WiFi on but average power drain would be much much less that that. Again, WiGig isn't a roaming wireless method so you're likely to be close to power when you use it.
The WiGig standard is almost ready and you should expect a ratified release very soon so there's every chance that interoperability problems are minimized.
"We're excited to partner with Dell in making multi-gigabit wireless connectivity and uncompromising mobility a reality for business users," said Tal Tamir, chief executive officer of Wilocity. "Dell's Latitude 6430u is what the Ultrabook business customers have been waiting for.  Wilocity's first-to-market implementation of WiGig (IEEE 802.11ad) and the WiGig Wireless Bus Extension make this transformational product possible."
Source: Globalfluency.com