Intel could, according to Xbitlabs, release a new set of low-TDP Ivy Bridge CPUs next year that will help tablet and Ultrabook designers make products thinner, cooler and quieter. TDPs will be brought down from 17W to 10W by limiting clockrate and Turbo features. The process is going to make it very difficult for a customer (and for us analysts) to determine performance based on a i3/i5/i7 part number but are also likely to be there to let Intel feed-in lower price CPUs for tablets and low-cost Ultrabooks. There's a little trickery involved here as designers already have options for locking-down TDPs although the new parts extend that capability down to tablet designs and make it simpler for manufacturers. The new parts seem good candidates for the Surface Pro for which we don't have a Core i5 model number yet.
Base frequencies and Turbo features are changed in all of the new CPUs. We don't expect any changes to the Core architecture.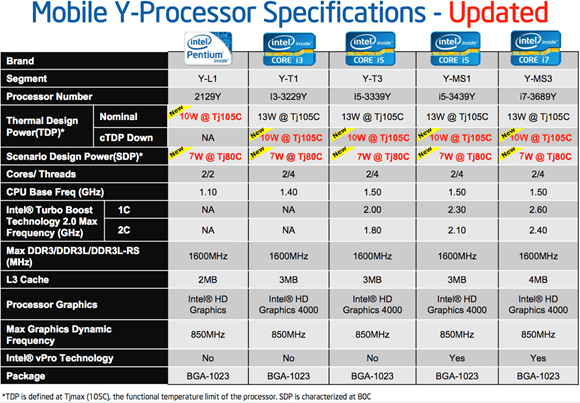 Starting with the Core i3-3229Y the base clock drops from 1.8Ghz on the 17WTDP part to 1.4Ghz. No surprise then that the TDP is down. It's a 13W TDP part.
The Core i5 gets two new parts. One, the Core i5-3439Y includes VPro support. Base clocks are down from 1.7Ghz to 1.5Ghz and the max Turbo clock is cut right down to 2.0Ghz on the non VPro, Core i5-3339Y part and 2.3Ghz on the VPro part. No surprise that these come with a 13W nominal TDP.
There's a similar story for the Core i7 part. i7-3689Y gets a 1.5Ghz clock and 2.6Ghz max Turbo.
All parts come with the existing TDP-down feature that can cut Turbo to limit heat and TDP to 10W although we're not sure how Intel are doing that on the Core i3 part. It might get a base clock cut instead. Obviously limiting clock and overclock rates like this limits performance. Devices will be cooler, but slower.
Don't forget that existing Core i3, i5 and i7 parts can be locked to 800Mhz by the user in power-saving modes – a useful tip if you want a no-fan silent mode.
There is unlikely to be any change to the CPUs at all in terms of architecture as these SKUs are just existing CPUs with locked/limited clocks and Turbo features and possibly parts that failed to pass high clock-rate tests and therefore very likely to be much cheaper than fully clocked siblings.
There's another unknown here though because designers that do a good job at keeping CPUs cool get to offer Turbo Boost that lasts longer. Take the Lenovo Thinkpad X1 Carbon we tested recently as an example because it does a great job at cooling and offers the user high clockrates for longer which can really improve performance of longer process-hungry tasks.We've seen other Ultrabooks that actually turn off the Turbo overclocking under battery power too. It's arguable that designers already had the tools they needed to get TDPs down and that Intel is just playing an SKU game here. It allows them to sell more SKUs, drop prices on lower-end parts and to get some PR out there about lower-power Core processors. Just remember, these processor won't be any more efficient and could, in some cases, increase the battery needed to complete a task due to it taking longer (and needing backlight-on, WiFi powered-up etc.)
You're very likely to see one of these parts in the Microsoft Surface Pro as it enables a tighter design, less fan usage, lower cost and explains the delay in bringing the Surface Pro to market.
See our Surface Pro performance preview where we talk about the possibility of a lower-clocked CPU.
It could mean that the Surface Pro gets a 1.5-2.0Ghz part instead of a 1.7-2.6Ghz part which will limit theoretical performance. If thermals are really tight the Turbo could be short-lived. Most users are unlikely to notice much difference though.
The new SKUs might also explain why we haven't seen the ASUS Transformer Book on sale yet.
Again, Intel haven't formally announced these processors but it seems like a reasonable progression. When they do, please be aware that there's nothing new in terms of architecture here but you might get cooler and quieter core-based tablets and Ultrabooks.
We will continue to add all Core-based tablets in our database.
Via Notebookitalia