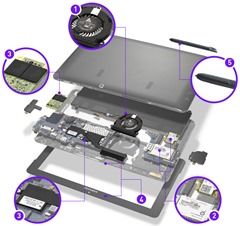 Competitor to the Microsoft Surface Pro (and 4 other Core-based dockables,) the Samsung ATIV Smart PC Pro / 700T / XE700 hasn't exactly got the market to itself but given Samsung's history of making tablets we think they have a good chance of being one of the most popular brands in the category and when Samsung posts details about what's going inside the SmartPC Pro you get the impression they have some confidence too.
Check out some of the key features inside the Samsung ATIV SmartPC Pro below and read-on for information on the first owner-feedback.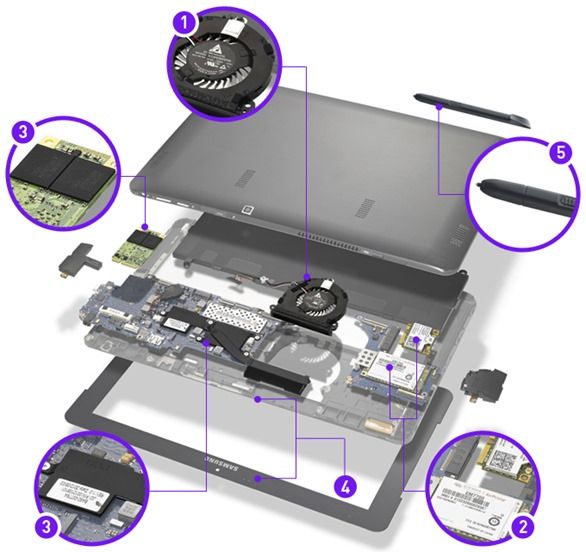 Number one on the list is the fan. Unfortunately we haven't quite reach the stage where these tablets are fanless but at least Samsung are doing their best to reduce the noise. It's a new metal-blade 3mm fan and apparently the noise has been reduced by 25%. (Compared to what, Samsung?!) We'll see what they have really achieved when we get hold of one because we'd rather see extended fan-off ranges than a quieter fan that's on all the time. (See customer feedback below for more on the fan noise.)
Samsung give some details about their communications module, 8-seconds boot time with their 128GB SSD and the digitizer panel. The S-Pen, a Wacom device, has 1024 pressure levels, which is nice! You can read more here.
Meanwhile, we've seen the first customer review for the XE700T (as it is known in Europe) on Amazon.co.uk where the full package is available with 64GB for £952 (976 Euro before local tax.) The 64GB model is marked up as have eMMC memory and only 16GB free so please check that before buying. The reviewer reports 'cold' normal working and good pen response along with a good keyboard experience. On the negative side there's the 'top heavy' issue that could plague all of these dockables. The customer notes that it's heavy and wide for a consumer tablet too. Again, that applies to all Core-based tablets and we expect to see that mentioned in every review of a Core-based tablet. [Link to customer review on Amazon.]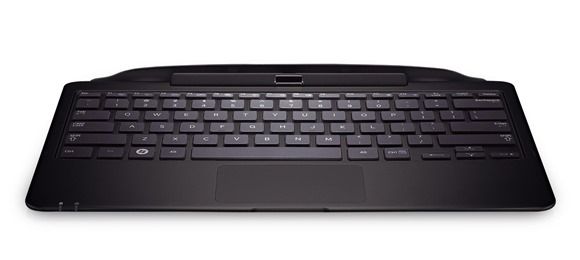 Core-based dockable tablets are a flexible option. They provide true desktop processing capability and work well as tablets for short periods or in lap / armchair scenarios. They aren't always-on / Connected Standby capable like their Clovertrail cousins but then you can't use a CloverTrail tablet as a desktop every day. [Side-note: I'm testing one today to write this article. Here's the set-up.]
We'll be watching out for full reviews and adding them to the Samsung ATIV SmartPC Pro information page. Check it out now for specs and some videos.