At 499 Euro, including docking station and up to 18hrs battery life, the Acer Iconia W510 CloverTrail tablet (32GB) is somewhat of a bargain in Europe. Price and positioning is different in the USA but you can still get the tablet with 64GB storage for $599. It's also the lightest Windows 8 PC in the world which makes it pretty interesting for mobile users. I took a closer look at the device in an article recently but today I was able to read through a full review from the good people at Tabtech.de. The original is in German but I've pulled out some of the important data for you.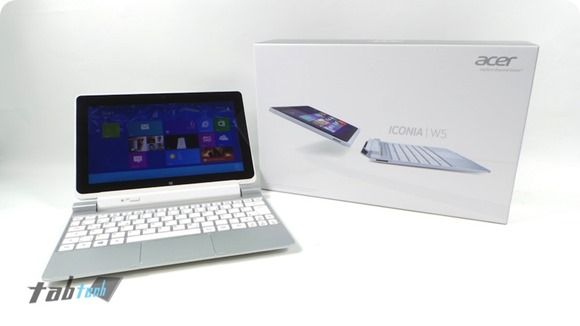 First thing to note is that the battery life is good and can be  doubled with the keyboard dock. The keyboard gets an OK review and looking at the quoted eMMC (storage) speeds, it seems on par with the Samsung ATIV SmartPC 500T. Any of those three items could have been a big problem if they had been poor quality.
Build quality doesn't appear to be top-notch but Tabtech say the look of the device is good and that it is easy to hold. Only a small amount of warmth was noticed on the device during handheld use.
GPS and NFC are confirmed.
As for the keyboard dock, Tabtech got a good impression all round – and that goes for the hinge which can rotate beyond 180 degrees to offer a stand mode. Key presses are said to have good feedback but obviously the size will be something many users will have to get used to – it's netbook sized. Note there's no SD card slot on the dock.
The display is an IPS model at 1366×768. Tabtech noticed that it could have been a bit brighter. It's protected with Gorilla Glass 2.
The 64GB version under test was delivered with just 31GB free which means the 32GB version is really going to be too tight for most people. The 64GB version is 599 Euro and probably the version most will (and should) choose.
Battery life was tested with video playback and Wi-Fi on to nearly 8hours. Adding the keyboard dock brings that to a very impressive 16hrs. It looks like this is the one for long-haul flights! CPU performance is on par with the Samsung ATIV SmartPC 500T with SunSpider completing in 720ms. Tabtech have other performance results available on the review.
The 8mp camera appears to offer reasonable performance. It's not the best out there but probably the best you'll see on any laptop today. Again, check out the review for example images and video.
In summary Tabtech gives the W510 7/10 and although there are problems to consider (no USB post on tablet, single touch mousepad, relatively low storage capability) there's a lot to like here.
Head over to their article for their full photo set and the full article in German and translated to English.
Anyone tempted with the worlds lightest Windows 8 PC?