Since 2006 I've owned three swivel-screen laptops and one of them, the Gigabyte Touchnote, became completely ingrained in my mobile computing life. The Lenovo Twist is a similar size and weight but it offers quite a bit more. We're talking about a useful and desktop-capable Core i5 CPU, 4GB of RAM, a 500GB hybrid HDD and 5-point capacitive touch. This little Ultrabook Convertible is running Windows 8 and also includes a great set of ports. To top it off there's an IPS display. Out of the box it's an extremely exciting form factor and it looks and feels both stylish and strong. My first thoughts were 'I need this Ultrabook.' After 4 hours of testing I'm still very positive but there are a couple of things that are annoying me.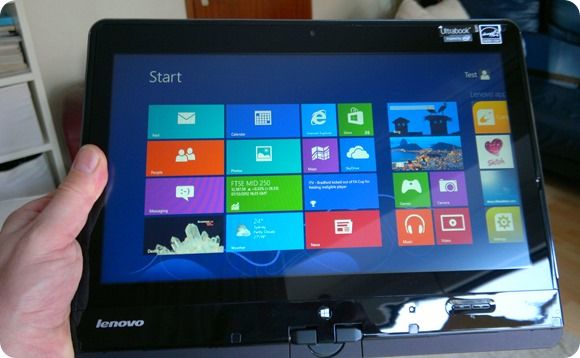 From a hardware perspective the Lenovo Thinkpad Twist is a solid bit of kit and finished in a grippy rubberised casing that's perfect for walking around the office with in one hand. The design is simple but stylish in my opinion and I'm really pleased to see a full SD card slot, two USB3.0 ports, MiniDisplayPort and Mini HDMI port. There's a SIM card slot for 3G in this European model but it looks like it's not an installed option. Tease!
The screen is an IPS wide-viewing angle model and it's a big improvement on non IPS displays. You notice immediately in portrait mode where on non-IPS screens you get a strange unbalanced effect. It's not perfect though as there's definitely some fading as you change angles. The resolution of 1366×768 is ok, just ok for this 12.5" screen size.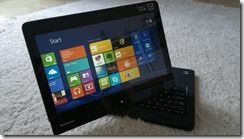 I like the keyboard. It's got a lot of travel and works well with my smaller-than-average fingers. I feel more confident on this than I did on the Lenovo X1 Carbon but what a shame it isn't back-lit. The TouchPoint controls are ideal for me but the mouse pad does feel a bit small and perhaps a little sensitive. I need to optimise the settings for my fingers.
Fn-keys are reversed which makes sense. I wish the WiFi on/off button wasn't just an airplane-mode switch. I'm still looking for an easy way to turn off the BT module and leave Wi-Fi on. I'd usually expect a Lenovo pop-up and some options so I'll search deeper for that setting.
Lets move onto the storage – a Hybrid HDD. I've seen good and I've seen bad HDD implementations. This one uses ExpressCache which takes a while to cache programs but there's an underlying issue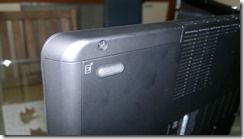 that no cache can fix. 4K read speeds on this Hitachi 2.5" disk are pathetic. I'm not sure I've ever seen such a slow 4K read speed. Write speed isn't good but it's 3X the 4K read speed. I believe I'm seeing the effects of this manifesting themselves in occasional lock-ups in the first hours of testing. Admittedly Windows 8 is working overtime in the first few days of action so it might sort itself out but this is nothing like a true SSD-based Ultrabook. Fortunately the HDD can be popped out very easily. One screw, one pull and you've got a 7mm SATA drive in your hand. In my other hand I have a 7mm Intel 520 SSD that I might, just might have to drop in to see what difference it makes. It might help with something else too…
Power usage at idle is abnormally high for an Ultrabook. I saw a similar situation on the Lenovo Thinkpad X1 Carbon and it could be due to the Lenovo software build so a fresh build on a new SSD will tell me if it really is a software problem. High background drain doesn't help at all when there's only a 47Wh battery inside. I'm not happy to report that we're looking at a device that will only return 4hrs of Wi-Fi on Web activity, and that's with careful power and application management.  (After working on this article for over an hour with Wi-Fi on, screen at 40%, balanced power mode I've got 56 minutes left on 23% battery – almost exactly 4hrs on a full battery)
Fan activity is a little more than you might like although it's quiet and there's an advantage here. Lenovo have done a good job, as they did on the X1 Carbon, with thermal management under load. That means you'll get more out of this 1.7Ghz Core i5 that you will on many other Ultrabooks as Turbo hangs-in longer than anything I've tested apart from the Thinkpad X1 Carbon. There's no major noise from the fan but you'll hear the rush and in tablet mode you might feel it on your hand as you hold the device in two hands. Cinebench returned 2.34 in the CPU test which is a good score for an Ultrabook.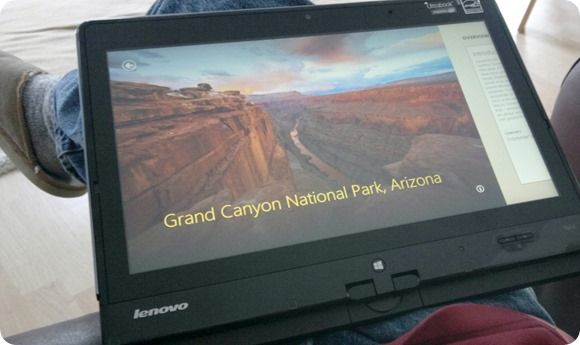 A quick word about tablet mode. This is a 1.5KG / 3.3lb device. Need I say more? Best operating modes are on the belly while reclining or one the lap although there's a design error here. If you lift the screen for a better viewing angle the Thinkpad tells Windows 8 you're using a keyboard and the OSK doesn't pop up when input fields show. It took me a while to figure that one out. There may be a tweak for this. A rotating screen isn't just for tablet mode though. Twisting to quickly show someone an image, folding out flat for better on-belly usage and table-top use for demos work really well. What a shame there isn't a digitizer for annotations, something I did a lot on the my old resistive-touchscreen Touchnote.
As with all center-mounted rotating screens it loses something in stability. Some of that 'give' is by design too because if it was rock-solid, it would probably snap off at the first knock! In my experience of at least 2 years of rotating screen ownership I've never had a problem with these mounts but I can understand the disappointment some people might have with the sloppiness.
I love the Lenovo Thinkpad Twist design and see it a solid convertible offering. Recent prices were extremely attractive so keep a look out for offers, especially in the USA where the price reached $799 recently but I do wonder if this Ultrabook is really worthy of the Thinkpad brand, especially as the Thinkpad stickers are already peeling from the casing. (Update: No, it was only the protective plastic covering the logos.) Where's the quick-charge feature? (something that would really help on this mini laptop) and why the slow HDD? The Wi-Fi module isn't top-of-the-range either although it seems pretty stable and strong here in my environment. There aren't even Wi-Fi or hard drive activity indicators. Keyboard backlight is missing in my opinion too. Given the easily-removable HDD, TrackPoint, good Turbo performance, IPS screen, 3G option, SSD option and seemingly solid build though, I'll give Lenovo the benefit of the doubt! The package gets my thumbs-up, whetever the branding.
Oh, low-light video cam, array (beam-forming I think) microphones and ambient light sensor. I almost forgot those and it leads me to wonder if the Intel sensor pack is included which contains GPS and electronic compass too. I'll dig deeper on that subject. (Update: There is evidence that the Gyro, accelerometer, light sensor and compass are available to Windows 8 apps. I'm unable to confirm GPS at this stage and the electronic compass seems 90 degrees out.)
If you bought the Lenovo Twist with (or upgraded to) an SSD you'd still be left with a sub 5hr device so that's the main specification that most people are going to have to assess. There's no quick-charge and no replaceable battery to help you out either. 5hrs between mains sockets (or an external power pack at 20V?) isn't bad but after two years, that could be down to sub 4hrs. Under heavy load 3hrs will be common and I bet I could drain this battery in 2hrs with some gaming action.
Testing continues and I'll put together a full review, hopefully including an HDD->SSD swap, for you within 2 weeks. In the meantime feel free to ask questions.
Update: I left this article to simmer overnight and I must say that when I picked up the Twist this morning it was a pleasure to hold, a pleasure to type on and a pleasure to touch the screen, even on Windows 8 desktop.  I'm happy that this is a solid, productive and enjoyable Ultrabook convertible and one of the most exciting and adaptable I've tested.