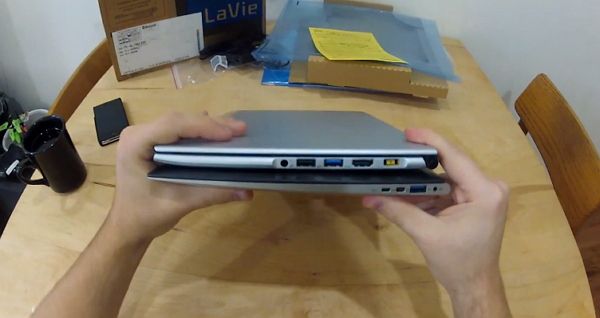 We finally got our hands on the NEC Lavie Z which is the world's lightest 13″ Ultrabook. In fact, at 875 grams, it's even lighter than most 11.6″ Ultrabooks! Thanks to our pals at Dynamism, who handle importing products like the Lavie Z that aren't otherwise available in the US, we have an unboxing and forthcoming review of the Lavie Z for you.
If weight is an issue for your workflow, the Lavie Z should be on your list. The 875 gram unit is so light you'll wonder if you remembered to put it in your bag after leaving the house. We've heard "it feels like a piece of paper" and "it feels like foam" from two different people who have picked up our test unit.
NEC Lavie Z Unboxing
Battery life is something that we'll be watching for closely as light weight and long battery life don't often come in the same package. Early impressions indicate that NEC may have had to sacrifice some battery to hit their weight target. However it should be able to last at least 5 hours as per Intel's Ultrabook specifications.
Early impressions reveal the keyboard to be better than average. I've also been surprised how loud the fan can get in the Lavie Z. It isn't beyond what you are likely used to, but it sounds odd coming from such a petite machine! The 1600×900 display has a nice thin bezel which some of you will definitely enjoy as I have.
Our full review of the NEC Lavie Z is in the works. Drop us a line if you've got any questions regarding the unit.
Note from the author: I'm interested to know what readers think of the first-person unboxing. Please let me know below!
[embedsite height=110px src=http://ultrabooknews.com/pullin/productdetails-pullin-generic.php?id=922]