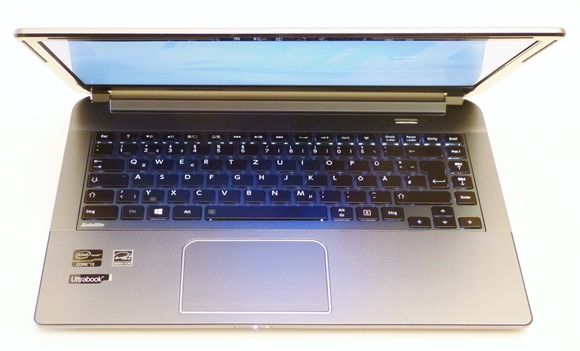 When I first had hands-on with the Toshiba U940 I was a little worried that it might be built too cheaply. The casing and styling weren't exactly top-of-the-range but it turns out that Toshiba have put together quite an honest package here. Don't judge an Ultrabook by the cover because the Toshiba U940 has some unique features and good all-round performance. Read-on to find out more.
This review written mostly on the Toshiba U940
Toshiba U940 review model full specifications.
Manufacturer: Toshiba
Model name: Satellite U940  (variants known as U945 in USA)
CPU type: Intel Core i3-3217U 1800 Mhz
Graphics: Intel HD 4000
OS: Windows 8
Display Size: 14″ 1366X768 LED-backlit LCD.  No IPS, No Touch
RAM: 4GB
Battery Capacity: 43Wh
Backlit Keyboard
Hybrid HDD: Hitachi HTS545050A7E380 (500GB Single Platter 5400RPM SATA 3Gbs, 7mm) + Samsung MZMPC032HBCD 32GB SATA 6Gbps SSD.
Weight: 1555gm / 54.8 oz. (measured)
Ports: DC-in, Line-out / Headphone (3.5mm),Mic-in, SDHC Card Slot, USB3.0 x3, HDMI, Gigabit Ethernet
Wireless: Intel Centrino N2230, Bluetooth 4.0.
Other features: Glossy Screen, Array microphone, Multitouch Synaptics Touchpad, Stereo speakers with SRS processing, Wi-Di, WiUSB. Intel Smart Response RAID driver. (No SRT control software installed. Can be disabled in BIOS – F2 on boot) Easy access to memory (1 free slot) , msata port, 2.5" drive bay and WiFi module), removable 43Wh battery.
Notes: No sensors apart from Win8 location service. No TPM.  No Anti-Theft Software (although Anti-theft is support on the CPU). No VPro.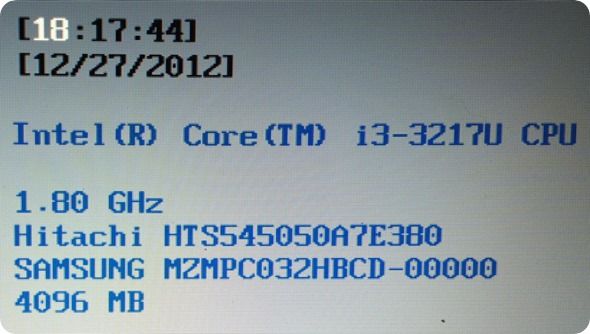 First impressions and unboxing video.
Detailed first impressions here. Video embedded below.
External Build, Ports
The U940 doesn't impress at first glance. Slightly cheap looking plastics, an ugly underside and battery unit and a relatively heavy weight. This is going to look like a mainstream laptop before the second quarter of 2013 but in comparison with many mainstream laptops you can't deny that it's relatively light and thin.  It's a practical design that allows the incorporation of a good set of ports on both sides of the Ultrabook. The same can be said of the underside which only looks a little messy because it's got a removable access panel. More about that later. More about the 3-cell 43Wh removable battery later too. Some mainstream laptop features can be desirable. Here's the underside with the access  panel removed.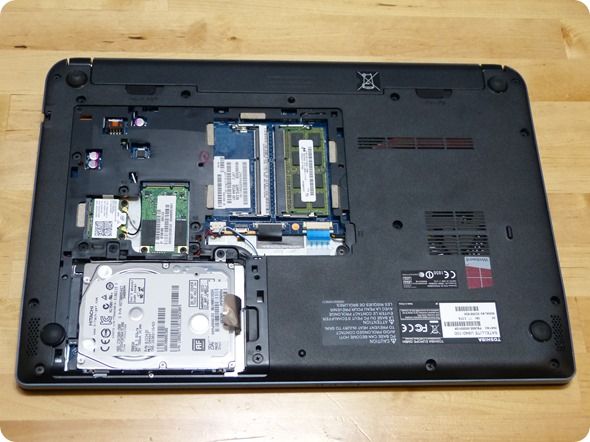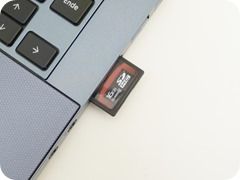 Working Fascia (Keyboard, Screen, Mouse)
A mainstream 14" laptop of 2011 and 2012 has a 1366×768 screen so as we head into 2013 we don't expect to be seeing 1366×768 on a 14″ Ultrabook. The obvious advantage is that it's cheap and you can read text very easily, even in mobile situations (trains for example.) The color balance is, even to this amateur eye, quite poor and putting the U940 next to a Lenovo Twist reveals a serious difference in contrast, black levels, color range and viewing angles. Disappointing, but usable and with some tweaks to the Intel graphics adapter color settings a reasonable working range can be found. Many will be linking the U940 up to an external monitor though so for that scenario it's not a huge issue. On a positive note the thin screen bezel looks  nice.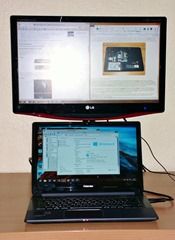 When using Ultrabooks on the desktop we often side-by-side the Ultrabook and screen, raise the Ultrabook on a laptop stand and add an external keyboard and mouse but with the U940 we can report that the keyboard and mouse are very usable for longer periods of desktop use. The mouse pad is especially good although you'll need to practice two-finger right-click because the right-click hit area is small. The pad is generally very good and provides smooth two-finger scrolling. It's a Synaptics unit with the usual, extensive range of settings and tuning.
The keyboard isn't as good as, say, the Lenovo X1 Carbon or Lenovo Twist and it's similar to the Z830/930 in that it has shallow travel and a slightly smaller keycap area than many keyboards but it's not causing any issues here. We had a few spacebar issues on a Z830 last year; there's no evidence of that here. The keyboard is backlit.
Function keys are reversed and include media playback controls. The Wi-Fi control is actually an Airplane-Mode switch under Windows 8
If the screen had been slightly better quality this would be an excellent value set-up but as it is it's slightly unbalanced with a poor screen matched with a good keyboard and an excellent mousepad.
General Performance
The Toshiba Satellite U940 being tested here is the Core i3 version with a 500GB hybrid hard drive and 4GB of RAM which sounds, on paper, quite poor. The reality of it is that Toshiba have come up with a well balance system build. The Intel-based Smart Response storage system (based on RAID technology) and a 1.8Ghz Ivy Bridge core (that has a base frequency higher than the low-end Core i5) and an excellent WiFi system really help to make the U940 more productive than it sounds. Don't forget that the Core i3 3217U has all the Intel Quick-Sync and HD 4000 goodness that the other Core options for Ultrabooks have so there's not much missing. Turbo Boost (controlled overclocking) is the only significant difference between Core i3 and Core i5/i7 and you'll see that in CPU-heavy test results below. The reality is though that the Core i3 lowers the price (and puts a cap on extreme battery drain) for few disadvantages. In fact, this 45Wh battery is looking like a 5hr unit as this article is typed on Live Writer with Wi-Fi on, screen at 50% brightness and a few Windows 8 apps running in the background. Toshiba's eco mode locks the CPU down to 800Mhz but also allows basic working with the fan off. You'll probably see 5.5hrs in that mode under that same conditions.
That brings us to the battery. The removable 4-cell 45Wh battery isn't huge (which gives more weight to the battery life we're seeing) but because it's removable you'll be able to carry a spare for all-day working. It's a simple 4 cylindrical cell design so although it's going to cost $99 from Toshiba, street prices are already lower than that. 30% lower in some search results from Europe, for the official part. Prices should come down, especially if the U940/U945 sells well.
Let's take a look at the disk speeds…
Above: Toshiba U940 CrystalDiskMark score and Lenovo Twist CrystalDiskMark score for comparison.
Write speeds aren't great on this unit and that's likely to be a function of the Samsung SSD which maxes out at a theoretical 90MB/s according to our research. The read speeds are totally acceptable though. 14MB/s at 4K reads is going to really help those fragmented files. It's not clear how the Intel SRT and RAID technology really work but the end result is that this is the best Hybrid HDD/SSD setup that we've used in real-world terms. We saw one lock-up while a disk was doing some heavy work for a few seconds but apart from that it's been a smooth experience. For comparison, here's the diskmark score we got on the Lenovo Twist which uses an Expresscache hybrid setup.
Audio / Video Performance
We've already mentioned the poor screen quality and that could impact your enjoyment of hi-resolution images and films. The speakers aren't anything to get too excited about either as they sound extremely thin. Digital audio is available through the HDMI port naturally and if not, headphones are advised.
In terms of capability the Core i3 Ultrabook platform is almost as capable as any other Ultrabook. FullHD videos in H.264 format shouldn't  be a problem at all and bitrates of 60Mbps or more should be possible if the format is a common one. For MKV fans there's likely to be enough CPU power for some less common codecs too although MKV is not natively supported. Note that Windows 8 does not support MPEG2 decoding and has no support for DVD unless a codec add-on is bought. Petty, Microsoft.
The HD4000 GPU also includes a hardware encoding unit and rendering videos (from a conversion program or video editor) is very fast if the software supports Intel Quick Sync / Intel Media SDK. We tested Cyberlink PowerDirector 10 and got a 6X real-time render to disk.
The Wi-Fi card included, an Intel Centrino N2230, is dual-channel, single band and supports Wireless Display (up to 60fps 1080p) and Wireless USB with a compatible receiver. This was not tested.
Gaming
We tested a couple of Windows 8 games which worked well and we saw some possibilities with recent (not new) 3D focused games when resolutions and features are tuned down but this is not a gaming notebook by a long shot. Gaming can seriously degrade battery performance down to the sub 2hr level.
Support Ultrabooknews and our detailed reviews.
You'll find a Facebook 'Like', Twitter and Google +1 buttons at the top of this post. Please take the time to promote this review. It will help us with the next Ultrabook review. Thanks!
WiFi Performance
We didn't perform any strict throughput testing but it appears that the antenna quality is good as we got strong signals in places where other Ultrabooks have struggled. Note that the N-2230 WiFi module is dual-stream but only single, 2.4Ghz. band. WiFi Direct, Smart Connect and Wi-Di are supported. Performance was not quite up to the excellent performance seen on the Thinkpad Twist but was definitely in the 'good' category compared to other Ultrabooks. Note that some tuning / upgrade is possible here as access to the WiFi card is easy.
Bluetooth was not tested for quality but an image transfer worked from a smartphone.
[embedsite height=400px src=http://ultrabooknews.com/pullin/productdetails-pullin-generic.php?id=949]
Pages: 1 2