Page 2 of 2. Go to Page 1
General Performance
This Core i7 version of the Yoga performs very well. The SSD is fast in all scenarios, the CPU and GPU get good test figures too.  We did, however see some poor performance too and this was down to a Conexant audio process consuming 30% of CPU for no good reason. After that process was killed, the scores went up. In fact, after cooling the Yoga 13 we managed to get the best Cinebench test result we've ever seen. Running Cinebench on a warm system, especially after other tests, knocked this down a bit but it shows how important cooling is to get the best out of Turbo Boost.
Cooling might be one of the Yoga 13's weak points though. The fan runs continuously and there's a build-up of heat at the rear. It's possible the Core i5 is slightly better due to its lower standard clock but in 'balanced' power mode, all Ultrabooks idle at 800Mhz so there's no reason a Core i7 should be warmer than a Core i5 in an idle situation.
Audio Performance
Good marks for Lenovo on the speaker audio quality which was comfortable. We're still talking about laptop-quality sound but at least the Yoga 13 doesn't sound like it's playing music over a telephone line.
Video (external) Performance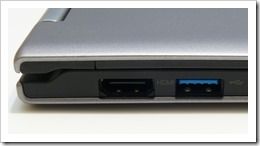 The Lenovo Twist (tested previously)  has three ways to get digital video out of the Ultrabook. The Lenovo Ideapad Yoga 13 here only has one – HDMI. There's no VGA or DisplayPort so options are limited and if you think you might be able to get some WiDi action going (wireless display), then think again because the Yoga is running a Realtek WiFi module which doesn't support WiDi.
Video (Internal) Performance
Background on Ivy Bridge  Ultrabook video performance:
The video playback capabilities of PCs have three limiting factors. CPU, video decoding hardware and software codecs. Windows 7 provides a good set of software codecs out of the box and supports most hardware video decoders. MPEG2, MPGEG4 part 2 (like Xvid, Divx) and MPEG 4 part 10 (like H.264) along with WMV of course. You'll need to download and install codecs for other types of file. Windows 8 does not support MPEG2 playback out of the box.
The HD 4000 GPU supports full HD (1080p) decoding in hardware and we tested it up to 50fps and 30Mbps which is as high as you'll get on most consumer video cameras. In theory the chip can decode twice that much and can even handle 4K video decoding. Unfortunately we weren't able to test that that.
CPU usage levels were low (average 5-10% on 'balanced' mode battery power) while decoding 1080p (H.264) video content. The fan was on during playback. At 50% brightness and 'balanced' battery mode the power usage averaged 11.2W which is close to average in this category of CPU.
WiFi Performance
We regard WiFi performance (a combination of WiFi module and antenna engineering) as a very important component of an Ultrabook. Most usage cases rely on WiFi and in some situations poor WiFi performance can render a good Ultrabook near useless, especially on heavily used hotspots.
The Lenovo Ideapad Yoga 13 uses a Realtek RTL8723A wireless adapter connected to the USB bus. (I.e. an internal USB->WiFi adaptor.) The adapter supports 802.11n but we're not able to determine if it's dual channel or dual-band.
In performance tests at 3 walls away / 10M from a router we saw average-to-high performance for the Ultrabook category although this was only tested on 802.11g, 54Mbps in an office and not under controlled conditions. The WiFi adapter does not support WiDi, WiUSB or other Intel wireless features and software.
Performance Tests
All performance test done under 'balanced' battery power mode unless stated. SB= Sandy Bridge 2nd generation Intel Core CPU with HD 3000 graphics.
3DMark 06
Lenovo Ideapad Yoga 13 (Core i7) = 4506
Previous results:
PCMark7
Lenovo Ideapad Yoga 13 (Core i7) = 4615
Previous Results
Cinebench 11.5 CPU Test (2 Core)
We had some interesting results on Cinebench. On first-pass the CPU score was 1.60. It turns out that a process called Conexant audio (or maybe voice, we forgot to write down the exact name) was taking 30% of the CPU. On a second pass, things looked better…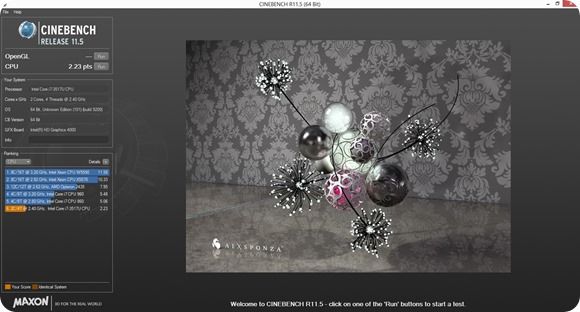 Lenovo Ideapad Yoga 13 (Core i7) – 2.23
In order to test the Yoga 13 under cooler conditions we turned off the Ultrabook and put it in a cool place for 10 minutes. We ran the Ultrabook on battery power (mains charging can cause more heat) and re-ran the test. In this case the Intel Turbo Boost was effective for longer and the result went up to 2.58. If proves that continuous heavy loads can heat up an Ultrabook and impact the effectiveness of Intel Turbo Boost.
Previous results
Cinebench 11.5 OpenGL
Lenovo Yoga 13 (Core i7) – 13.44
Previous results
Battery Life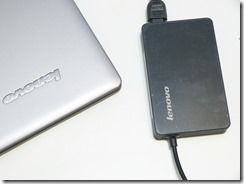 The Yoga 13 contains a high-capacity 54.7Wh capacity battery which really helps to lengthen battery life and is probably the reason for some of the extra weight in the Yoga 13.  Unfortunately the Yoga 13 doesn't report very efficient usage of its battery under No-Wifi, low Screen-brightness state. A minimum of 6.0W is all we could measure via Windows 8 perfmon which is somewhat higher than we see on other Ultrabooks but is, interestingly, about average for Lenovo Ultrabooks.
Usage Scenario
Power usage
Estimated battery life
Idle, no Wi-Fi, sound off, power save profile
Screen low – min 6W
Screen High – min 9.7W
9hrs
5.5hrs
Local MP3 playback (Using WMP, medium vol, low screen brightness
Average 8.5W
6.3hrs
Streaming MP3 playback (low screen brightness, 3 walls from hotspot)
Average 9.6W
5.6hrs
Web working – 50% screen, 5 web applications tabs (1)
Average 10.5W
5.1hrs
HD Video playback (WiFi Off, WMP)
Average 11.3W
4.7hrs
(1) Chrome: Tweetdeck, Facebook, Google Plus, YouTube, Gmail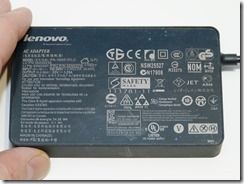 Heat and Noise
In most Ultrabooks there's a way to get silent, fan-off or quiet working either by using battery save mode (where the CPU is locked at 800Mhz) or by using a silent mode as found on some Samsung Ultrabooks. On this Yoga 13 it was impossible to get a quiet working mode. That's not saying that it's not possible by removing some pre-installed apps and features but out-of-the-box it was a bit disappointing.  A small amount of heat build-up near the fan exhaust would not normally be a problem but the Yoga is also a tablet which means you hold the device on the edges. left-hand holding in portrait mode wasn't too comfortable after a while. (Say 10 minutes)
Issues and Notes
We didn't have any stability problems during the two weeks of testing.
SD card goes fully into the slot
As on many Windows 8 Ultrabooks, the WiFi-Of function key causes Airplane mode to kick in. On the Yoga the function key is labeled correctly but there's no way to toggle BT and WiFi by keys.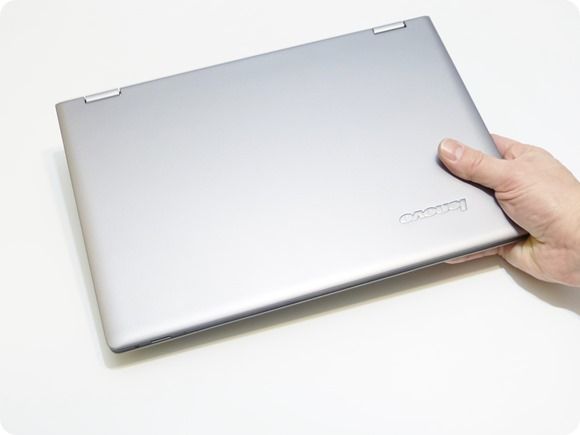 Target Customer
More than any Ultrabook we've tested in the past, the Yoga 13 has a big element of style, experimentation and wow-factor associated with it and that will determine a segment of its customer- base. Pragmatic customers may not find the Yoga hitting the sweet spot due to sub-par tablet functionality and corner-cutting on other components. (Keyboard backlight, ports, WiFi features.) The Ideapad Yoga 13 is a great Ultrabook in laptop mode though so anyone looking for a fast, powerful Ultrabook with excellent keyboard and good battery life, IPS touchscreen – that can afford it – will be tempted.  Customers looking for an office/home laptop/tablet convertible might be disappointed due to the size and weight of the tablet functionality. Office workers might be better looking for a device with more ports and a better WiFi setup. Interestingly, the Lenovo Twist offers that, although with reduced battery life compared to the Yoga 13.
Summary
It's been a lot of fun to review  the Yoga 13 but our concerns about the weight and usability have been confirmed. A 13" tablet could be useful for gaming and business but we see the Yoga 13 not quite reaching the full potential when used as a tablet. Certainly for some tablet users the digitizer component is missing. For consumers, it's heavy.
This form-factor is one to watch as time goes on but in the meantime the Lenovo Yoga 13 is nice to use as an Ultrabook with occasional easel-mode or seat-back mode and perhaps for presentations. Despite a weak screen output, fan-noise and a few optional Ultrabook features like WiDi and keyboard backlight, is computationally strong. It's fast, productive and well-built.
In term of value for money, that's your choice. If the excitement of a completely new form factor has a big impact in your evaluation, we have no doubt you'll be looking long and hard at the Ideapad Yoga 13 and reading this review again. You might also have a look at the new Lenovo Ideapad Yoga 11S too though. CPU performance will be well below that which the Yoga 13 offers but it might fit consumer requirements better, both in terms of price and usability.
[embedsite height=380px src=http://ultrabooknews.com/pullin/productdetails-pullin-generic.php?id=828]
Pages: 1 2