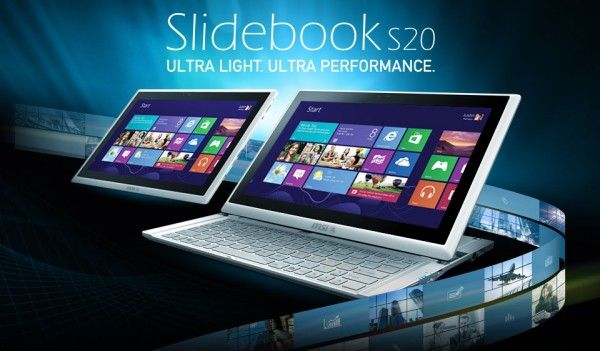 We've known about the sleek-looking MSI S20 Ultrabook convertible as far back as June of 2012. With Windows 8, MSI couldn't launch the S20 until the official Windows 8 release date on October 26th. But in an Asus-like fashion, MSI left the S20 linger and left any details regarding its release date and price up in the air. Earlier this month, some 7 months after the first announcement, MSI is finally dropping details on when you can get your hands on the S20 Ultrabook and how much it will cost. Additionally we've got a fresh gallery of what is likely the final renders of the S20.
MSI S20 Release Date and Price
According to a press release from MSI, the S20 Ultrabook convertible will be available in the U.S. by the end of January for $1199. For the first time we've spotted on MSI's site that the S20 will be available in white, silver, or black color options, though no images of any colors except for white have been revealed.
Chippy also found the S20 available in a few European regions for €999 at the end of December.
It isn't clear where you'll be able to buy the S20, though the company does have products available through Amazon.com in the U.S. We tracked down a listing from a reseller, though the unit is currently listed as available for 'backorder'.
The MSI S20 is a Ultrabook convertible (sliding form-factor) with a 11.6-inch touchscreen which is, impressively, full HD (1920×1080). The unit features an Ivy Bridge Intel Core i5 processor (which means it's also got HD 4000 graphics). Inside there's also 8GB of 1600MHz RAM and a 128GB SSD.
The port set has 2x USB 3.0, mini-HDMI, full ethernet (LAN/RJ45), and a 3.5mm headphone jack. Personally we'd trade the ethernet port for another USB port! The lack of SD card slot is an unfortunate omission, but there is some slack to be given as the unit is just under 20mm thick and weighs 1.2 KG.
We haven't had a chance to try out the S20 for ourselves just yet. While we're definitely excited by the slim convertible Ultrabook, the 3-cell battery could be the Achilles heel!
NewGadgets.de recently checked out the S20 at MSI headquarters in Taiwan:
MSI S20 Latest Gallery