Seven software development companies are about to embark on a interesting journey into perceptual computing. Another Ultimate Coder Challenge has started.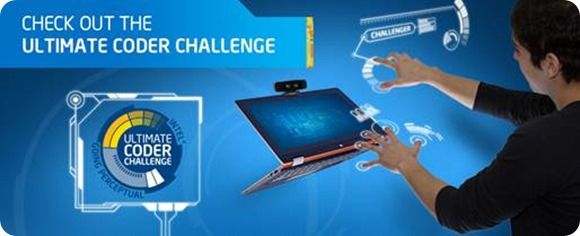 The teams will be working with the amazing Perceptual Computing hardware and SDK to produce an application that showcases what perceptual computing is all about. 3D object tracking, facial analysis, gesture and voice input are at their disposal; Leading edge hardware and techniques that one day could be in the frame of your Ultrabook.
Intel's competition site is now live and I'm happy to announce that we're part of the Jury. Ahead of us is seven weeks of analysis, evaluation, testing and learning and we're very excited to see what's going to come out of it. You can follow it all here.
You can see my demo of the Creative sensor hardware here but watch out because we'll be getting a kit to play with ourselves very soon. There will be many more demos coming up but to get a feel of what you're going to see over the next 7 weeks, take a look at this post which introduces the teams and the proposed applications. You'll find perceptual computing extensions being added to games, photo editing software and to create software toolkits. VR and puppets will be involved too and there's an interesting plan to make a pottery app. Does it work with four hands I wonder?
Good luck to:
Sixsense Entertainment, Simian Squared, Lee Bamber, Infrared5, Eskil Steenberg, Peter O' Hanlon and the Code-Monkeys
Important links for the Intel Ultimate Coder Challenge: Going Perceptual Competition