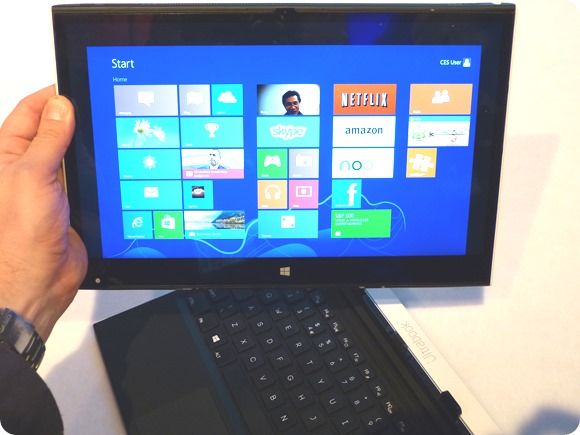 North Cape is the Haswell hybrid Ultrabook reference design that was brought out as the demo at CES in Jan. This evening in Hannover, Intel have allowed us to have a few minutes hands-on with it at CeBIT. Naturally this is a reference design and not a final product but from the few minutes we had we can draw at least a few conclusions. I also had a chance to speak to a senior marketing representative from Intel about Connected Standby.
First, the video.
You hear me talk about the cool body, the light weight and the thinness. There's a demo of the virtual frame too. We don't know the TDP of the part inside (it could be a downclocked or cTDP low-power configurationer for example.) There's an interesting eject button which means it's probably more than just USB running through the base unit.
In a chat with one of the marketing managers I confirmed that there will be COnnected Standby and non-Connected Standby Ultrabooks on Haswell. The CS Ultrabooks are likely to be the cream of the crop and will be more expensive but will have lower power profiles. Clearly the hybrid designs are the perfect fit for CS-capable Ultrabooks but I' wouldn't be surprised to see Samsung have a CS-capable Series 9. Remember, CS is not just about being up-to-date with emails, it means apps can run when the Ultrabook is in your bag, without a fan, on an SSD, for days. It's the mark of extreme battery life, it's very exciting technology and likely to be exclusive to Ultrabooks.