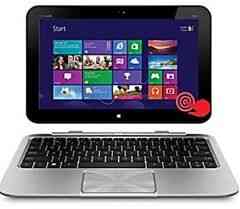 Of the laptop-like dockable Clovertrail tablets there are two that stand out. The ASUS VivoTab TF800 has a great keyboard, a stylish build and that all-important battery in the keyboard unit. The HP Envy is also up there and last week at CeBIT I had some quiet time alone with it thanks to the Intel booth. I really like it. I like it even more today as I've just found a price of $599 for the 64GB unit with keyboard.
Staples, in the USA,  have the HP ENVY x2 11-g010nr available for $599. [here]
The tip comes fro Techpinions who recently published a long-term review of the HP Envy X2.
It's about time the prices came down on these Atom-based evolutions. Apart from some additional hinge and dock design and the touchscreen there's little reason for prices higher than touch Ultrabooks.  The casings are nothing special and the mainboard should be cheap to produce too.  There are indications that prices in the USA are starting to shift now though. Take these Amazon.com examples:
Acer W510 [My review] with 64GB and keyboard – $649. [Link]
Samsung ATIV SmartPC 500T – $649 [link] I have this one too. Stylish device. Stronger Wifi than W510. Better keyboard and mouse than W510 but slightly bigger and doesn't have a battery in the keyboard dock.
For an overview of all Clovertrail tablets and hybrids, see my recent article here.
$599 for the HP Envy X2 is a great deal. If you're looking for a mobile Windows 8 device with the potential for some productivity, desktop app support, Connected Standby and long battery life, look no further. If you've got time though, give it a month or two. I expect prices to come down further.