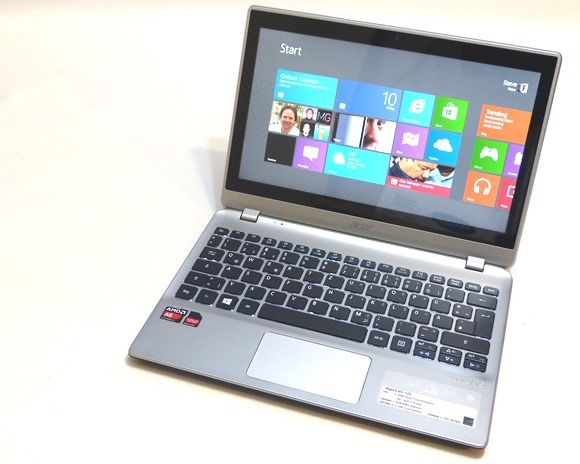 The Acer Aspire V5 122P is an 11.6" sub-notebook running on an AMD Temash processor which I've highlighted before as being potentially interesting for mobile Windows 8 because it, theoretically, offers performance that sits between netbooks and Ultrabooks while offering very good efficiency. I've unboxed the Acer V5 122P and found a well-balanced, very good value touchscreen notebook that could appeal to many people looking at the sub-$500 bracket. It's not an Ultrabook in terms of raw performance but it feels like it hits a nice sweet-spot.
Update: Detailed processor performance tests are being performed here.
The Acer Aspire V5-122P casing is all-plastic which feels cheap after handling so many Ultrabooks but the design is appealing and in terms of value for money, it's very good. $480 in the USA (with 2GB, this one has 4GB RAM and cost 480 Euro in Germany.)
Performance is indeed right in between netbook and Ultrabook levels with about HD3000-levels of graphics power (Sandy Bridge Ultrabooks in 2011/2012) and about 1/3rd the CPU performance although clock-for-clock, it's about the same. Battery life is going to be about 3.5-4hrs on this with a 30Wh (small) battery inside although there's an interesting extended battery port on the base of the unit.
AMD Kabini – Suited for Ultrabooks
I'll have more for you soon after I've done some more detailed testing at the weekend when I plan to drop in an SSD to see how much we can get out of it. Considering that this nearer to a mobile laptop experience than an Ultrabook we'll probably take it over to our sister site, UMPCPortal, for further testing.
First performance tests:
Update: Detailed processor performance tests at 1.4Ghz are being performed here.
AMD Temash A6-1450 Cinebench 11.5 CPU:0.85 (1Ghz)
AMD Temash A6-1450 Cinebench 11.5 OpenGL:8.53 (1Ghz)
CrystalMark 2004R3: 57546 (1Ghz)