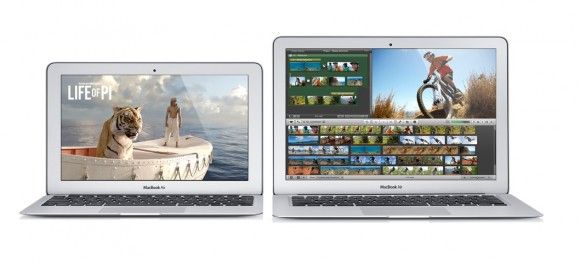 Yesterday at Apple's annual developer conference, WWDC, the company revealed a refreshed version of the MacBook Air, the company's thin-and-light Ultrabook competitor. Both 11-inch and 13-inch versions are getting Intel's latest Haswell chips. Apple claims 9 hours of battery life for the 11-inch Air and 12 hours for the 13-inch. While critics have called Ultrabooks 'MacBook Air Clones', Apple may be falling behind.
The new 2013 MacBook Air is largely the same unit we've seen before, but now with Haswell inside.
In classic Apple fashion, they aren't any more specific about which processors are inside than "1.3GHz dual-core Intel Core i5", though they're almost certainly using the 15W Haswell Core i5-4250U. Both units can be configured with an i7 processor as well, which is likely to be the i7-4650U CPU. Both have HD 5000 graphics, but not the 'Iris' discrete-class graphics available on higher power Haswell processors. See a technical comparison of both MacBook Air processors here.
These are undeniably thin, light, and well designed machines — but their screens are beginning to feel last-gen. The latest crop of Haswell Ultrabook announcements saw plenty of 1080p action, and beyond. The 2013 MacBook Air is still stuck on 1366×768 for the 11-inch and 1440×900 for the 13-inch, not to mention no touchscreen option.
9 hour (11-inch) and 12-hour (13-inch) battery life is nothing to scoff at. Apple is likely able to take extreme advantage of Haswell's new low-power features (excellent overview here) because of their careful control of both the OS and the hardware inside.

There are a few changes in addition to the processor and battery life.
Dual-mics

3x faster 802.11ac WiFi
45% faster flash storage
11-inch model comes standard with 128GB SSD
The 11-inch model starts at $999 and the 13-inch at $1,099, both are available today. New PC Ultrabooks could outspec the MacBook Air, but matching this price/quality ratio is going to be a challenge.
On both models you can double the SSD capacity from 128GB to 256GB for $100, or go to 512GB for $400. Core i5 to Core i7  processor upgrade will add $150, and 4GB to 8GB of RAM will add an additional $100, making the most expensively configured MacBook Air $1,849. You can learn more about the 2013 MacBook Air at Apple's site.