This is a breakthrough device. ASUS has taken the Transformer Book idea and squeezed in two CPUs (Intel Atom, Intel 4th Gen Core i7) along with two operating systems (Windows and Android)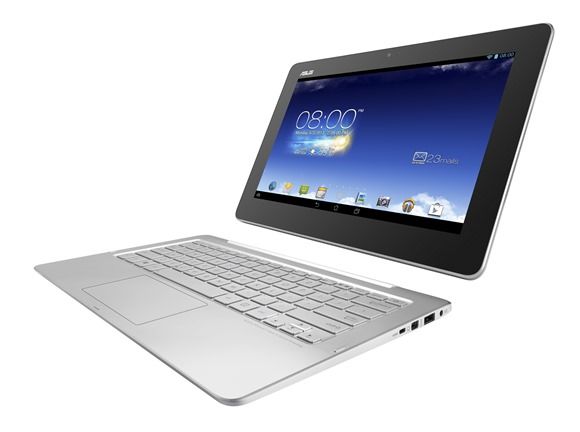 Specs include a Full HD 11.6-inch screen, dual storage of 1TB and a 64GB eMMC flash module and two batteries totalling about 50Wh. There's also a desktop PC screen. No details are available on that but it could be a WiDi-based product.
Processor details:
Intel Core i7 4500U (Haswell)
Intel Atom Z2580
There are a lot of unanswered questions right now that we'll try and get the answers for.
Is the storage shared?
Can the tablet be used with Windows? Answer: No. The Tablet only runs with Android.
Is it an Ultrabook?
How much will it cost?
Can the two operating systems run concurrently?

Here's a section of the press release.
ASUS Transformer Book Trio — transforming expectations for notebooks
The ASUS Transformer Book Trio is the world's first three-in-one mobile device. With an 11.6-inch detachable display and dual operating systems, Transformer Book Trio transforms mobile flexibility by switching effortlessly between a Windows 8 notebook, Android tablet and Windows 8 desktop PC. Transformer Book Trio switches easily between operating systems to give users access to over 700,000 apps in the Google Play Store and over 50,000 apps in the Windows Store.
Despite the different operating systems, the Transformer Book Trio has been designed to smoothly transition between modes, allowing users to sync data or continue to surf the webpage they're on even when moving from notebook to tablet mode.
The PC Station dock has its own 4th generation Intel® Core™ i7 processor, keyboard and 750GB hard drive, and with the tablet display detached, can be hooked up to an external display for use as a desktop PC. The PC Station also serves as a charger for the tablet for extended battery life. The tablet features a 2.0 GHz Intel® Atom™ processor and a 16:9 aspect ratio IPS display with Full HD 1920 x 1080 resolution and up to 64GB storage.