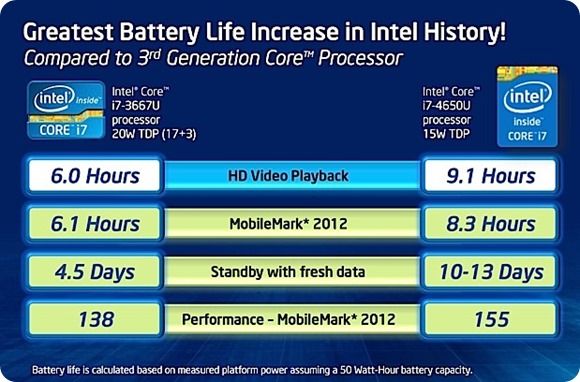 It's not like we weren't expecting this. We had a good idea last September and wrote about Haswell's potential to increase battery life back in Jan. Intal have released some slides today that show some more details.
The new Core i7-4650U, a 15W TDP part, could offer 50% more video playback time over the Core i7-3667U (which Intel cheekily calls a 20W TDP platform now that it matters!) It's the same story as we saw on Intel Clovertrail last year and that improvement is likely to rise for smaller-screen Ultrabooks and tablets. More importantly, standby time is improved although Intel haven't talked about Connected Standby here which means that with Windows 8, Metro apps can be running in the background while the desktop is off. Expect to see some figures for that over the next few days as more details are made public and Computex press events happen tomorrow (Monday morning in Taiwan.)
Remember that these are very specific scenarios but even in general use we're expecting the much lower background drain to bring big increases in battery life.
Via Engadget.