Touchscreen / Display
The 11.6-inch touchscreen display has a fairly large bezel; a shame, because when the screen is off it often looks like the screen extends right to the edges thanks to an edge-to-edge piece of glass.
I'm not a stickler on large bezels, but I will say that 1366×768 resolution in the year 2013 is getting old, fast. Working with any sort of multimedia (video/photo editing especially) on such a low resolution feels very cramped. While 1080p is probably too dense for 11.6-inches (assuming we're not doing any graphical scaling), 1600×900 should be a great fit.
Though it's only 1366×768, the display uses IPS which gives it vibrant colors and and full viewing angles — a must for a convertible (which is likely to be in your lap and not facing directly at you). The viewing angles are great, but the contrast ratio is average for a laptop LCD (which is to say: not so great)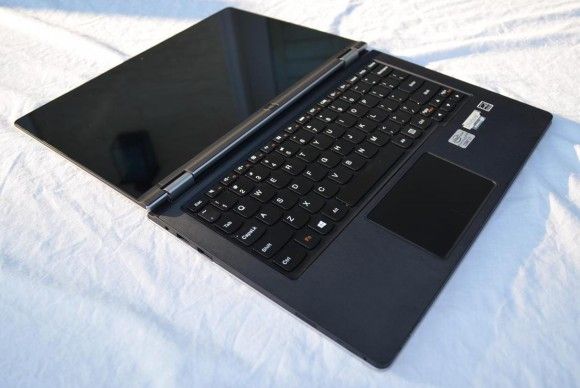 The touchscreen is as responsive as you'd expect from a capacitive multi-touch display (very!). The only time when clicks don't go through right almost always end up being Windows' fault. I should also mention there's no capacitive digitizer on the Yoga S11.
A touchscreen is certainly a good augmentation when working with just the trackpad. I can now count myself among those who occasionally attempt to touch the screen on my non-touchscreen Ultrabook when I switch back to it. As for the Metro/touchscreen half of Windows 8, there's not a whole lot on offer — I ended up spending most of my time with the desktop mode.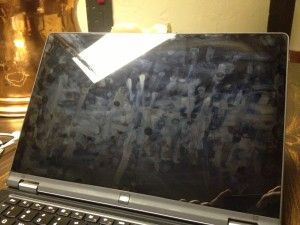 While all touchscreens are bound to get smudges from finger oil, it would seem that the Lenovo Yoga 11S's display is particularly susceptible (perhaps the glass has poor lipophobicity?). It doesn't normally affect usage, but occasionally, with the right light, you just have to stare in awe.
Keyboard and Trackpad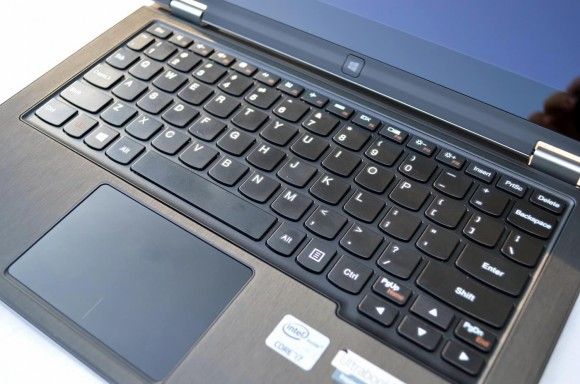 The keyboard on the Yoga 11S is great. The responsiveness and travel are superb, and it isn't too noisy either. It may be that my hands fit it just right, but I've found the 11S's keyboard to be one of my favorites of the many Ultrabooks that I've tested.
The F-key row sees all of the F-keys themselves relegated to use by the Fn key. Without using the Fn key, the row becomes host to a number of useful buttons like volume, brightness, airplane mode, etc.
On the F4 key, there is a square with an X in it. Looking similar to a 'disable trackpad' or 'turn off backlight' key, I pressed it to see what it would do, and it immediately closed the application I was working with. It's literally a 'close the window' key, which I've never noticed on any other laptop. It makes a bit of sense because alt+F4 normally closes windows… but really it's just a recipe for closing something important by accident and costing someone a lot of time!
My only concern with the keyboard is that there is some flex toward the middle. You hardly notice it when typing, but it's sometimes a sign of poor build quality — not quite fitting with the rest of the Yoga 11S which is very solid. This issue is common on Lenovo IdeaPad laptops in my experience.
The tackpad is a plastic all-in-one as everyone seems to be doing these days. It works well for the most part and I didn't have trouble with accidentally touching it and activating a click with my palms while typing. One annoyance is that if you try to do a two-finger scroll, but accidentally start where the virtual left and right buttons are, you will move the mouse instead of doing a scroll. If you aren't careful you'll be scrolling along fine when all of the sudden the mouse shoots to the top of the screen! The Yoga 11S is using the same Synaptics trackpad software as many other Ultrabooks, but I haven't noticed this problem elsewhere. It could be that size and position of the trackpad lends itself to this behavior, or that I need to tweak some additional settings in the trackpad. That's a fair enough excuse, but you're typical day-to-day user really shouldn't be expect to play with their trackpad settings in order to avoid such an annoyance.
While we're on the topic: my recommendation is to always turn off pinch-zoom, rotate, and other gestures that are rarely used (and poorly implemented) in the desktop side of Windows 8. And definitely turn off the Edge Swipes, unless you want to be accidentally activating them all day on the desktop (it's easy enough to use the touchscreen for this anyway). Don't worry though, the same gestures won't be disabled for the touchscreen half of Windows 8.