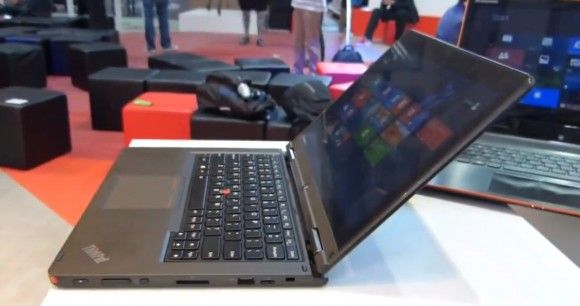 Lenovo is taking it's convertible Ultrabook design into the business world, today announcing the ThinkPad Yoga. The ThinkPad Yoga comes with a unique keyboard that hides away when the unit is in tablet mode to create a smooth back to the unit.
The ThinkPad Yoga is just what it sounds like — a ThinkPad Ultrabook with Lenovo unique Ultrabook convertible design which lets you flip the screen all the way onto the back of the unit, converting in a tablet mode.
New, and not available on any of the other Yoga-style products, is the 'lift and lock' keyboard. When the screen is flipped back into tablet mode, the foundation of the keyboard (between the keys) rises up to match the key height, creating a flush surface that Lenovo says will protect the keyboard and create a smooth rear surface so that you don't have to feel the keyboard when using the unit as a tablet.
Other features are business centric, including up to a 1TB HHD, a OneLink connector for docking, an optional active digitizer, TPM, and NFC options. Inside is Intel's latest Haswell chips, up to Core i7.
The 12.5-inch IPS touchscreen display can be either 1366×768, or 1920×1080 — an option we're happy to see finally provided.
As for ports, you'll find 2x USB 3.0, micro HDMI, the aformentioned OneLink connector, a 3.5mm headphone/mic combo jack, and full SD slot.
The Lenovo ThinkPad Yoga starts at $949 with a release date in November.
Our very own Chippy is on the show floor at IFA this week and already has a hands-on video with the ThinkPad Yoga!