Sony seems to have a knack for releasing innovative, well built Ultrabooks like its VAIO Duo series and the VAIO Pro now has introduced the VAIO Flip Ultrabook range which can switch between laptop, tablet and viewer modes with a unique 2nd hinge design.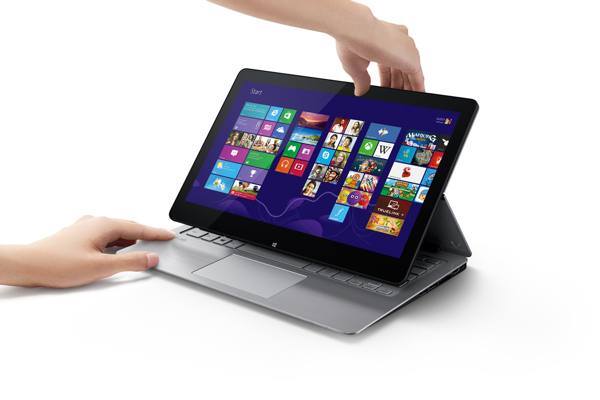 The new VAIO Flip PC's are part of the company's Fit line and come with aluminum lids, backlit keyboard, 1080p IPS displays featuring Sony's TRILUMINOS technology, with a choice of 13, 14 or 15 inch screen sizes and Haswell CPU options. SSD storage is standard on only the 13″ model but is also available as an option on the larger models while the 15″ model also has a screen option of 2,880 x 1,620 with NVidia graphics. There is also digitizer support provided by N-trig
Connectivity wise, the 14- and 15-inch models both offer a USB 3.0 connection along with an Ethernet port, while the 13-incher has two USB 3.0 connections and a mini-HDMI port.
The main feature here though is the flip functionality of the screen which allows you to flip out the lower half of the screen and extend it to lay flat over the keyboard to enter tablet mode or flip it backwards and use it as a viewer and the impression from the Engadget reviewer was that the hinge mechanism was quite sturdy. For tablet use the 13″ version will likely offer the best experience, weighing in at 2.6 pounds while the 14 & 15″ models weigh 4.2 and 4.6 pounds respectively.
European pricing is expected to be revealed shortly with details for US availability expected later.