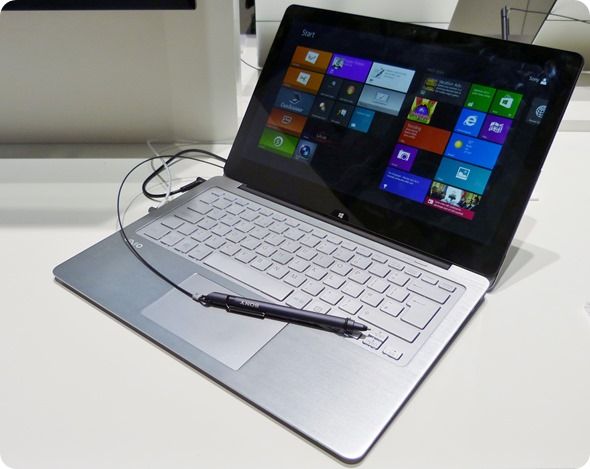 The Sony Vaio FIT Multi-Flip is another example of some of the innovation going on in the laptop market right now. It's the Ultrabook platform that gives designers and engineers the flexibility to build designs like this. Once again, Sony include a digitizer layer and a feature-rich product.
The Vaio Fit Multi-Flip will be available in Europe by the end of the year and the price is unknown at this stage but there's potential for a great home PC here. The Full HD screen uses Sony Triluminous technology which we've already enjoyed on the Sony Vaio Duo 13. The 13" version here is shown with the maximum 8GB of RAM and Core i7 4500U CPU. SSD options will go up to 512GB.
Weight is officially 1.2KG. It felt heavier than that to me though.
The 14" version has similar specifications I n1.8KG but the 15" version, and one that could really replace a desktop PC for even video editing, has the option for a Nvidia GeForce GT735M and 16GB of SSD.
Device manager and system properties show a Toshiba SSD and the Intel Wireless-N 7260 NGFF module. NFC, sensors and WiDi is included.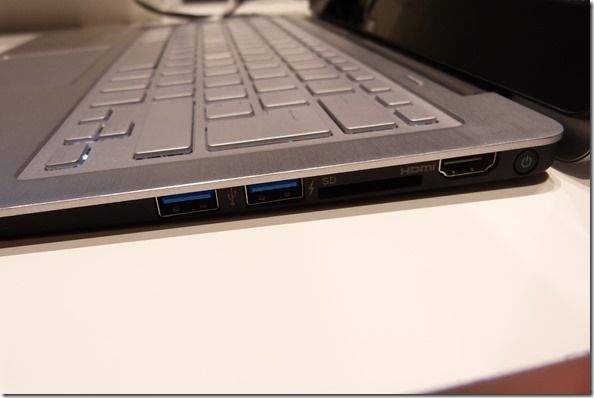 The Vaio Fit Multi Flip isn't the thinnest and it doesn't work as a handheld tablet due to weight and design but as a table tablet it's great. Here's a detailed video of the 13-inch Sony Vaio Fit Multi-Flip.