Sony has announced an 11-inch, 0.39-inch thick tablet with keyboard cover. Does the design sound familiar?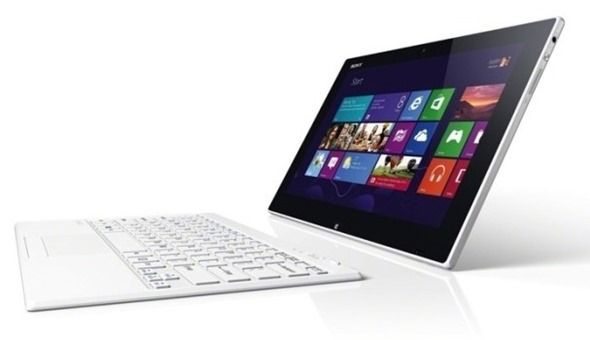 The Acer P3 'Ultrabook' uses a similar design running the Core Y-series CPUs. The ASUS Vivobook Smart does a similar trick with the Clovertrail CPUs but the one most people will be thinking about is the MS Surface Pro which runs U-series Core CPUs. In many respects, the Tap 11 trumps them all by offering Haswell, the next generation Intel processor, in a very thin design.  The question is, what's the battery life like?
You'll also be wanting to know what the price is and what type of 4th-Gen Core is inside. Could this also be the upcoming Y-Series? At least some of the models will use this CPU but Pentium was also mentioned. That could mean Bay Trail.
CNet gives us the processor information shown below Other information from other sources.
Core i5-4210Y at 1.5Ghz-1.9Ghz with HD4200 graphics – a relatively low-end on-board GPU from the Haswell range of options.
4GB RAM
128GB-512GB SSD
N-Trig Digitizer
Stand
NFC
9.9mm / 0.39-inch thick
Weight 780 gram / 1.72 pound
1920×1080 (not full-HD) IPS Panel with Triluminous technology. (We saw this on the Sony Vaio Duo 13 – stunning!)
Micro SD card slot
SIM card slot
Volume rocker
3.5mm headphone
USB3.0 (x1)
Micro HDMI
Active digitizer pen (N-Trig) and holder
RF keyboard which charges from main unit.
Here's the kicker, and it's not a surprise. The tablet is so small that Sony clearly haven't been able to squeeze in much of a battery. It's the same old story of weight/battery life trade-off. Sony have mentioned a battery life of 5 hours.
Let's assume 4hrs under normal use though. A 30Wh battery would be about right and give you 4hrs of online working. Still, that's quite impressive for a 780gm Haswell-based tablet. It probably sets the bar for 2013/2014 Core-based tablets too so watch out to see what the next Surface Pro offers.
An 11.6-inch tablet makes a reasonable mobile productivity screen, In the past these have weighed too much to be useful as a consumer-style tablet but at 780gm this is going to be useful in ways that other Windows tablets haven't been.
Keep in mind that with Bay Trail potentially on the cards, the price range could start surprisingly low. High-end versions with Core i7 Haswell Y-Series and 512GB SSD's however, will be a different matter! It will be interesting to see if a single design does really does extend across two processor ranges, with the same weight.
No official pricing or availability was given but we're expecting Y-Series in the 4th quarter, along with, possibly, new MS Surface models!
Information for this article from:
CNet (hands-on video available)