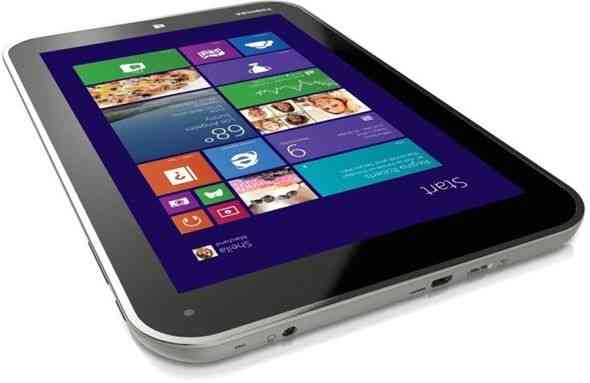 Although it could be a month or more before the Toshiba Encore 8-inch Windows 8 tablet is availble, pre-order is now live at Amazon in Germany. It's called the Encore WT8 (model number PDW09E) and the price and specs are as expected. Our Toshiba Encore WT8 specification page was nearly correct apart from the omission of the GPS module. We've updated it now.
299 Euro gets you the 32GB version. $349 Euro for the 64GB version (which is likely to be more popular.)
The Toshiba Encore WT8 is running the quad-core 1.3Ghz version of Baytrail-T with the Intel 'Gen 7' (Ivy Bridge architecture but cut-down in performance) and with a 1200×800 screen should offer a pretty good entry-level tablet experience. You can even ignore Windows Desktop if you like because Modern apps are getting better by the day and matching a consumption scenarios well. It's devices like the Encore WT8 that are going to sell, bump the numbers for developers in exactly the right area (Windows 8 touch-tablet users are obviously much more likely to use the Windows Store than laptop or desktop users.)
If you like, add an HDMI screen and USB keyboard or, as I'll be testing next week, a DisplayLink-based USB3.0 docking port. (I've just received two very nice looking Belkin models.) You should find it OK for Web usage, 720p video editing, Office and a bunch of other common scenarios. Note that Office Home and Student is included in the deal as part of the Microsoft Small Screen Touch program.
We had hands-on with a proto of the Encore WT-8 back at IFA and also tested some gaming on the Intel reference platform. Those videos are shown orlistat online below.
We'll keep a lookout for availability in other countries. If you spot it, let us know! Keep a look out for other Encore models too. Just like the Dell Venue tablet, it could be the start of a new range of consumer devices.
Amazon links:
Toshiba Encore WT8 32GB. 299 Euro
Toshiba Encore WT8 32GB. 349 Euro
Toshiba Encore WT8 Hands-On
Baytrail Windows Reference Design Hands-On