Toshiba has just announced updates to its Portege and Tecra range which includes 3 devices that fall into the Ultrabook class, the Portege Z30, Tecra Z40 and Z50.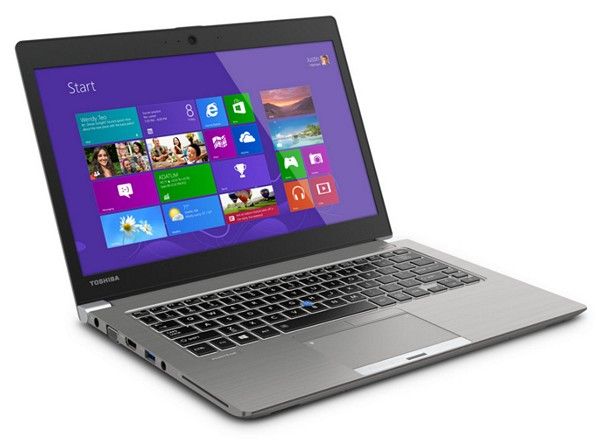 The Portege Z30, Tecra Z40 and Z50 share some common elements in design and construction but also have some important differences. All models come with a magnesium lid, Ethernet port, VGA and HDMI video out, 3x USB 3.0 Haswell CPU, TPM, 802.11ac Wi-Fi, Accupoint tracking stick, backlit keyboard, SD card reader, docking connector on the underside of the PC's and a fingerprint reader. All models come with Windows 7 as standard with an option to upgrade to Windows 8.
Looking closer at the Portege Z30 it will come with a 13.3 inch screen but only at a resolution of 1366×768 though there is an option to upgrade to a touchscreen along with Windows 8. You can choose from a Core i5 or 75 vPro CPU, 128GB or 256GB SSD, and up to 16GB of memory. Battery life is rated at 10 hours.
The 14 inch Z40 and 15.6 inch Z50 offer the same configuration apart from the screen size and come with the same CPU and RAM options as the Z30 but can be outfitted with a higher resolution screen option at 1600×900. Storage comes in either HDD form starting at 320GB up to 750GB, hybrid drive or up to 512GB SSD. There is also a discrete graphics option provided by the NVIDIA 730M. Battery life for these two models is rated at 8 hours.
The Portege Z30 measures 0.7 inch thick and weighs 2.6 pounds. The larger Tecra Z40 is 0.8 inch thick and weighs 3.2 pounds while the Tecra Z50 is also 0.8 inch thick, but weighs more at 3.9 pounds.
Pricing for the Z30 starts at $1,249 while both the Z40 and Z50 start at $1,119 and while the Z30 and Z40 are expected to be available on October 18 the Z50 is expected later on in November or December.