In under 4hrs from posting this, at 4am PDT, we'll all be able to start upgrading to Windows 8.1. Windows 8.1 updates are active in the Windows Store. That's assuming you're running Windows 8 of course!
Update: Windows 8.1 update download is 2.8GB. Servers seem to be coping though.
Windows 8.1 apps are already in the store waiting for upgraded users and one of those is the official Facebook app. Ta Da!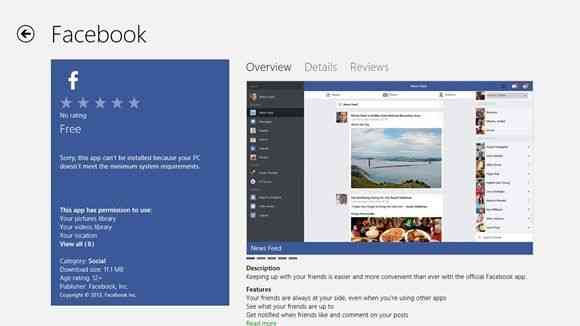 There's lots more coming including IE11, new imaging and video apps and a new suite of built-in app upgrades. You'll probably see a lot of new and upgraded third party apps too and that's one of the yardsticks that people will be using to gage Windows Store progress. It's important, no, critical that ISVs get a positive feel over the next few weeks and 8.1 rolls out and the new wave of modern form-factors roll out. That includes the ASUS Transformer T100 which some have already got in their hands today.
See the Windows 8.1 preview on the Acer W510.
Latest information is that Microsoft will flip the switch at 4am local time. That's 1300 in central Europe, 1200 in the UK and 7am in New York.
4am in Silicon Valley in your timezone.
You should get the update notification through Windows Store when it's available but be aware that availability could be tight, some locations may get it earlier than others, there may be firmware updates needed on some PCs and that the update process itself is going to take a long time. Installing the Beta on a Clovetrail tablet could take an hour or more. On an Ultrabook with a quick Internet connection you'll probably be done in 20 minutes.
I'm ready and waiting to update to Win 8.1 with an Acer W510, Samsung ATIV 500T and an Intel developer Ultrabook…