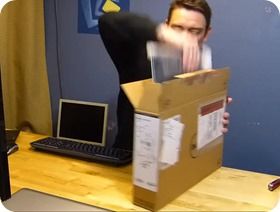 Update: Full review now live.

Need an Ultrabook for professional use that's going to be flexible with connectivity and be available in hundreds of variations? The Dell Latitude E7440 is one for you to take a look at because it's available in variants that would suit most people. From a 'basic' Core i5 with 1366×768 screen and hard drive to this, the 8GB, SSD and FullHD version with fingerprint reader and smartcard reader.
The version I have here isn't actually an Ultrabook although one can argue that by last years specifications it is. it doesn't have the touchscreen and it runs Windows 7. It will be interesting to test Windows 7 on Haswell to see if it's as efficient as Windows 8. I don't think it will be but we'll find out soon.
In the meantime, here's an 11-minute unboxing and overview of the Dell Latitude E7440 for you. Youll see a docking port, DisplayPort, smartcard reader, fingerprint reader, removable battery and more.