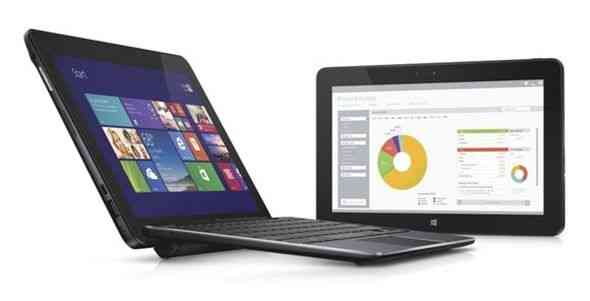 One chassis, multiple engines. The PC industry is moving towards the car industry business model now that Core and Atom devices are starting to be built to the same design. One of those designs is that of the Dell Venue 11 Pro 2-in-1 which I know many of you are considering. It's going to be a popular model if Dell can get it out there quickly but if you're one of the many interested, which one do you choose? Atom, Pentium and Core are up for grabs but there's quite a difference between them.
I took a view of the Dell Venue 11 Pro from the high-end position last week but today I want to help you, and help myself, choose between the four main models and multiple options associated with that and we obviously need to start with the same old question – What do you want to do with it?
The Dell Venue 11 Pro could be a desktop replacement in all model variants but only the Haswell-architecture variants would be comfortable options. None of those, however, has the power of a modern Ultrabook. There may be some of you out there that can work with the BayTrail version as your only PC but let's not kid ourselves that it's going to be an upgrade from anything less than a 5-year old low-end notebook or desktop and even the high end variants aren't going to be power-houses. They will, however, fit some users perfectly. One of those, I think, is me. You too?
The Display and cams on all the models are all the same. The width and height are the same. They all look the same and have the same keyboard accessories. Let's be clear that the basic product is a 10.8-inch tablet though. The processors and accessories make it very interesting. Keyboard docks and docking stations provide the sort of ultra-mobile-to-desk experience that many of us are looking for; Saving time and money.
Low-End Dell Venue 11 Pro Model has Atom Architecture (Model 5130 in USA)
Starting at $499
Basic Windows 8.1 OS: 32-bit Windows 8.1
Lower power processor: Processor:  4-core Z3770 processor and 2GB DDR3 1333MHz Memory memory.
Smaller Battery: Battery is 32Wh
Thinner design: 10.2mm thick
Lower graphics power: Intel® Gen 7 Graphics (A cut-down version of HD4000 GPU graphics)
Slower storage: 32 or 64GB eMMC SSD storage.
Lighter: 726 grams / 1.59 lbs
Always-on support: Connected standby.
Better Office package: Microsoft® Office Home and Student 2013 Included
Dell Wireless 1538 Dual-Band 2×2 802.11n WiFi + Bluetooth® 4.0 [Differences between 1538 and 1537, below, unknown.]
Lower price
High End Dell Venue 11 Pro Models have Haswell Architechture Models (Model 7130/7139 in USA)
Starting at $799 (Core i3. Pentium prices unknown but expected $50-$100 cheaper.)
Higher-end OS: 64-bit Windows 8 Pro (only, as per Dell offerings today)
More powerful processor options:

Intel® Pentium 3560Y processor (2MB Cache, 1.2 GHz Dual -Core) No Turbo boost, No Intel Quick Sync.
Intel® Core i3 4020Y processor (3MB Cache, 1.5 GHz Dual -Core) No Turbo boost
Intel® Core i5 4210Y processor (3MB Cache, 1.5 GHz Dual -Core) Turbo 1.5Ghz-1.9Ghz
Intel® Core i5 4300Y processor (3MB Cache, 1.6 GHz Dual -Core) VPro + Turbo 1.6Ghz-2.3Ghz

Thicker design: 15.4mm thick (Atom version is 10.2mm thick)
More powerful graphics: Intel® GT2 Graphics (HD 4400)
Larger, faster storage: Storage is 128GB or 256GB. Likely on a SATA interface and with much more potential speed.)
Bigger battery: Battery is 36Wh (although it's understood that the 32 and 36Wh batteries can be interchanged.)
Heavier design: 1.84 pounds (Atom version is 1.50 pounds)
More memory: 4GB or 8GB DDR3 1600MHz Memory (Ato m version is offered only in 2GB version although 4GB is theoretically possible.
Dell Wireless 1537 Dual-Band 2×2 802.11n WiFi
More expensive
Options expected for this model:

Intel® 7260AC Dual-Band 2×2 802.11 ac WiFi
Broadband: Dell Wireless 5570E (3G / HSPA+) or Dell Wireless 5808E (LTE/HSPA/EVDO) Mobile Broadband Card
Put your thoughts below and/or vote here.
Which Dell Venue 11 Pro do you think is best?
[poll id="6″]