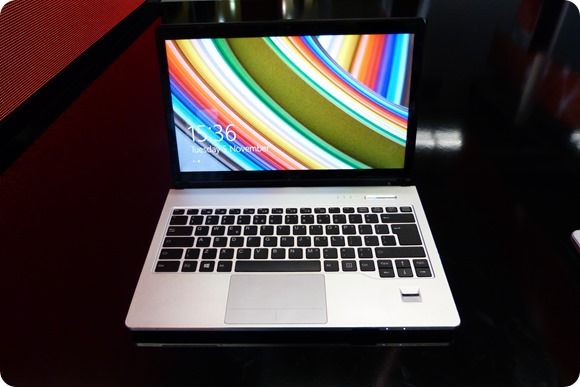 It is possible to feel confident that you'll last the day without your charger. I experienced it for the first time with Haswell and with the Fujitsu S904 it's possible you could even do a two-day + hotel stretch without a charger. It's not an Ultrabook because of the battery bump but at only 1.5KG it's probably got the biggest battery / weight ratio of any laptop or Ultrabook.
As with the other devices we saw at the Fujitsu Forum it's business-focused. Smart card, VPro, TPM and fingerprint reader are supported in varying options. Max RAM is an impressive 12GB (4GB on-board + accessible upgrade slot) and there are a host of HDD/SSD options including self-encrypting drives. The screen is an  IGZO 2560×1440 module with touch or anti glare option. I need to test IGZO because it's said that it brings efficiency improvements. If that's the case I will have to recalculate my battery life predictions for devices with IGZO screens. (More on IGZO here.)
Internally there's a 77Wh battery which is as big as any Ultrabook has had. Couple that with the Haswell platform and you'll get 14 hours of WiFi-on with it. An additional 28Wh battery pack can be placed into the multi-expansion slot which can also take a DVD writer or blank weight saver (to get the 1.49KG weight.) 105Wh of battery isn't quite 24hrs of 'working' battery life in my book but you could probably type on this with WiFi-off in for over 24hrs.
Prices are high. 1500 Euro is needed for a basic build with LTE. Prices above 1900 Euro are online for a 512GB SSD with Core i7 VPro model with LTE.  You can see all the specifications on this Fujitsu PDF