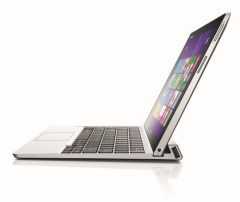 You might get the impression that I like the Lenovo Miix 2 10 when you see how much time I've spent with it recently. I've just produced 3 new videos, in addition to the unboxing video and there's lots of testing going on. The truth is that I am really enjoying this tablet-first device. Like the ASUS Transformer T100 I think it's going to be a big seller as a secondary PC that extends from the sofa to the desktop and includes the holiday, car and hotel in between, both for business and pleasure.
On to the videos…
How's that magnetic screen 'hinge' working out? Can you edit videos with the Miix 2 10 and how easy is it to set up as a desktop PC? For the answers, check out the new videos embedded below.
The first shows the magnetic catch in a stability test. How stable is it in the hand and will the hinge separate when in transport?
The second video shows how good the Baytrail-T platform is at video editing. I took a 720p video into Cyberlink Power Director 12 and got a 5-minute video rendered out in just over 30 seconds using a feature known as SVN. To render it down to a new bitrate took just 2 minutes 30 seconds using the built-in Intel Quick-Sync hardware. It's impressive just how powerful the SSD, CPU and Quick-Sync combination is.
Finally, here's a desktop setup using a Belkin USB docking station with Displaylink USB screen adaptor. Work office work this is an acceptable and flexible solution.
I'm working on the full review in the background (no major issues to report yet although I will warn that battery life won't be the best in town due to its relatively small tablet-only battery) and am also trying to answer the other big question. Lenovo Mixx 2 10 or ASUS Transformer Book T100? A T100 has just arrived in the office so we can work on answering that for you.
Watch out for a live videostream announcement soon that will not only include those two but also the Toshiba WT8 and the Dell Venue 8 Pro because we've also got to address the 8-inch Vs 10-inch question!