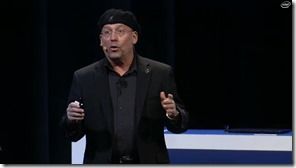 At a presentation today Intel introduced Realsense Technology and showed three ultrabook-like products that will include the 3D camera hardware. Lenovo, ASUS and Dell are on-board.
Update: Full video replay now available here.
Notes from the event
Mooly believes "We'll interface directly with the brain."
12 years until a CPU has as many transistors as a brain has neurons.
Intel want to add 'senses' to the CPU 'brain.'
"Touch is not natural." The voice is natural.
Current progress:
Dual-array mics (all new Ultrabooks have dual-array mics.)
Visual improvements coming:
The 3D camera: Thickness – thinner than two quarters.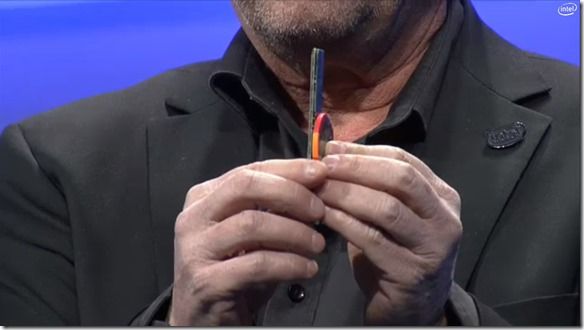 Lenovo, ASUS, Dell demo products shown.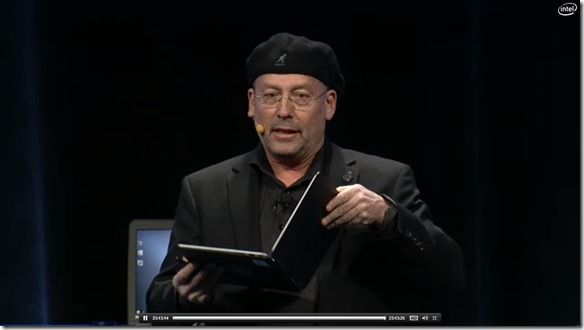 Brand announcement: Intel Realsense Technology.
Some demos will appear in the Intel keynote later today at CES 2014.
A demo shows a depth-sensing camera application that can apply filters to various depths.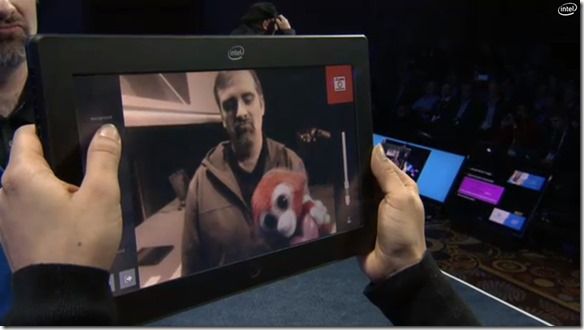 Announcement strategic partnership with 3DSystems. CEO Avi Reichental joins Intel on stage.
Avi: We're democratising 3D. Question is not if we will have a 3D printer but in which room should it be in.
The partnership looks like it will be with Intel to marry 3D sensing with 3D creation/printing/lithography.
iJustine demonstrates new features comning in Skype that use the 3D cam features.
Demo shows gesture recognition for Windows 8.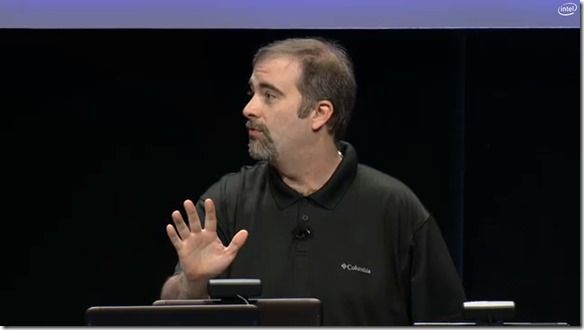 Demo: Face gesture tracking for virtual reality.
Announcement: Dragon Systems next generation voice recognition. The demo given seems quite natural although it did fail at the first attempt!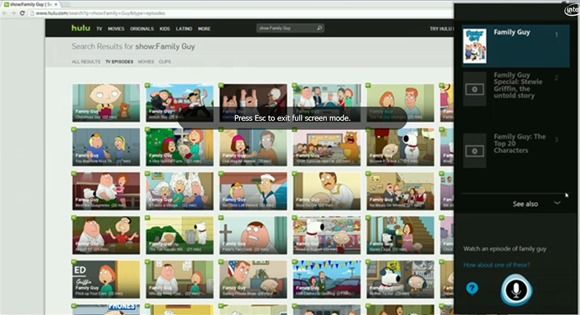 Mooly seems quite convinced that natural speech input is the future.
Demo: Gaming
First-up an very impressinve hand tracking demo. We'll have to get you the video lionk for this asap because it's really impressive.
3D pinball and a 3D flying game.
Impresive human interaction with a game…
Intel announces collaboration with Scholastic and an interactive book is demonstrated that tracks the voice , auto-turns the pages and provides interactive elements to the book.
Nuance, Microsoft, Dreamworks were also announced as partners for interactive 3D development.
Summary from Mooly
We will make human computing i/f natural, intuitive and immersive.

Voice, vision, gestures and other parameters will be included.

Well finally remove the fiction from the science fiction and make it real.
End of presentation.