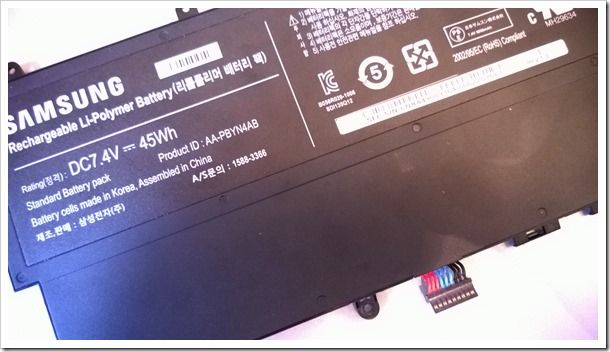 Take a look at the back of most Ultrabooks and you'll find nothing. By having sealed-in batteries the OEMS save money, weight and space. The owner, however, is left with the big unknown of battery lifetime and if you've ever owned a laptop you'll know how totally useless they are when you have to drag the mains cable around with you everywhere. I recently had to order a new internal battery for a Samsung Series 5 NP530 that is under two years old and has zero battery capacity. On the other hand I'm typing this on a two-year old Ultrabook that still has 85% battery capacity. So how long will the average battery last?
No-one can tell you how long your battery will last. Samsung claim that their Ultrabook batteries will still have over 80% capacity after two years if you turn on their 80% charge limiter, but they won't guarantee it. Most other manufacturers won't claim anything and there isn't a manufacturer out there that tells you how much it will cost to replace a sealed-in battery before you buy the product. While I'm happy with sealed-in batteries for the reasons mentioned above, I'm not happy with the variance in quality. If a battery is sealed-in it needs to have some sort of guarantee. 2 years and 75% should be a minimum and not just because the customer needs it. Replacing batteries is harmful to the environment and manufacturers need to be held responsible for replacement and disposal.
How to check your battery capacity
For more background information and a great set of comments from readers, read this:  Check and Improve your Battery Life Expectancy
I've just replaced the battery on a Samsung Series 5 and the how-to is below. Although the Ultrabook was used on a desk, plugged in, five days a week, the battery shouldn't have died like it did. It was clearly faulty and should have been a warranty case but as I'd already hacked about with the cover it probably would have cost me a fair bit of money. Instead I chose to find a replacement, which wasn't easy.
Finding out what battery you have is the first problem and to be 100% sure you'll need to open up your laptop and get the battery part number. Once you've got that it's easy to find replacements and you'll usually end up with two types. The original part will almost always be available through the official support channel but it's going to cost you. Finding the original part for self-install is a bit more difficult. What you'll usually end up with, because of price and availability, is a pattern (copy) battery from China. Quality is not guaranteed and you'll almost certainly have little chance of replacement if it's faulty. If you do find a company that will replace it, sending a Li-Ion battery back to China requires paperwork and time that you probably haven't got.
My experience was good though. I used a local site called StoreAkku.de. It turns out it's a front-end for a company working out of Hong Kong that gets an international shipping agent to send the required part. Ordering was easy and an email 24 hours later asking for confirmation of laptop model and / or photo of the battery gave me confidence. The price was good (70 Euros including delivery) and it turned up without any customs charges in about 10 days.
Samsung Series 5 (NP530U3B) battery replacement.
The process is fairly simple and I've included a video below.
Notes: Shut down your laptop before starting. Place a soft cloth under the device. Be careful of the hard drive as it is fragile. Once you've removed the cover you'll lose your warranty for anything else that might go wrong. This is an unofficial guide and comes with no guarantee.
Undo the drive access panel and remove drive
Remove mid-casing screws. (one)
Remove casing edge screws
BE CAREFUL when you prise the casing off. The metal as very thin and sharp at the edges. Work from front to back with the final lift at the corner where the power input is. Be careful of the plastic near the ethernet port as it can split easily. (Mine did!)
Undo battery screws. Remove tape covering WiFi antenna cable that is routed on the battery edge. Lift battery and remove power connector.
Insert new battery in the reverse process.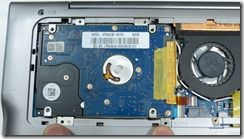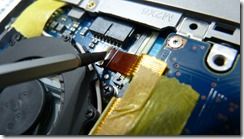 First thing to do is to remove the drive and drive cable.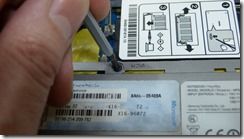 Remove the third mid-case screw and then the rest of the case screws.


CPUID HWMonitor can tell you how much capacity and charge you have.
Video: Samsung Series 5 Ultrabook battery replacement.
What's your experience of Ultrabook batteries? How much charge capacity do you have left? (find out using this method.) Have you had to replace a sealed-in battery?