Performance
The Acer Iconia W4 uses the Z3740 CPU at 1.33Ghz (not the D version found on the Dell Venue 8 Pro which has less memory bandwidth.) and comes with 2GB RAM. We haven't seen much variance on performance results between the 8-inch Baytrail tablets and even before doing tests we weren't expecting any surprises.
In general you're going to get a good web browsing experience and a workable basic office experience as long as you don't have too many programs or tabs open that are using up precious RAM. The 'Modern' experience is very good and we haven't seen any issues on the apps, including games (tip: We're into Tennis in the Face right now) that we tried.
Disk Speed
In our SSD test we turned off Bitlocker encryption and ran CrystalDiskMark.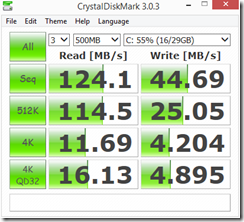 The read speeds were excellent and the write speeds just average. 4.2MB/s is a low score for an SSD and we've seen 10MB/s on other Windows 8 Baytrail tablets but for this level of CPU performance and the expected uses, acceptable. Bitlocker encryption is available on the disk for all versions of Windows 8.1
SD Card Speed
Using a 64GB SDXC (Sandisk) card we got the following speed test results.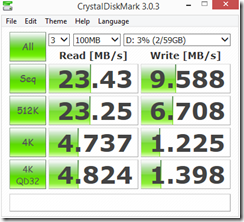 Cinebench
Cinebench 11.5 CPU: 1.25
Cinebench 11.5 OpenGL: 6.13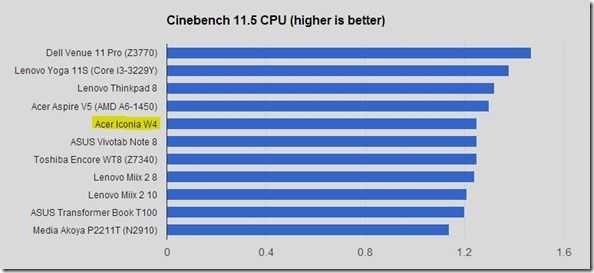 The variance between Z3740-based tablets in the Cinebench R11.5 CPU test is near-zero. As a reference point, current Ultrabooks using the Core i5 4200U CPU are getting 2.5 points in this test. (Twice the performance.)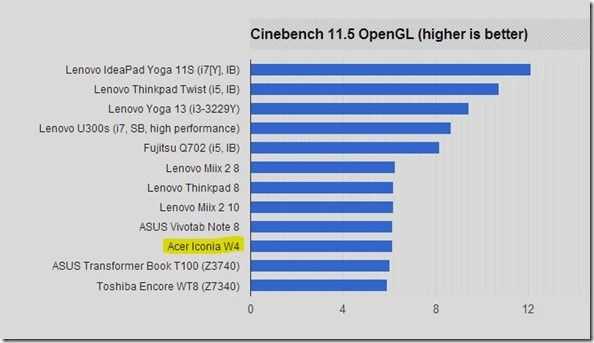 The OpenGL result of 6.14 is close to the other Z3740-based tablets. As a reference point, current Ultrabooks with 1.6Ghz-2.4Ghz Core i5 are scoring around 20 on this test. Some desktop games will work but you'll need to choose carefully. 'Modern' Store games should work without problems.
PCMark 07
Our PCMark 07 test uses the basic suite of tests that include video decoding, disk speed, browsing speed, CPU speed and graphics speed. The test is a good sign of how a device will perform in general office-like scenarios. The score of 2433 is average for this category but impressive for such a small PC indicating it can be used for most home and office tasks. Note that 2GB of RAM could be a limit to how much is done concurrently on the Acer Iconia W4 (That applies to all Windows 8 PCs with 2GB RAM.)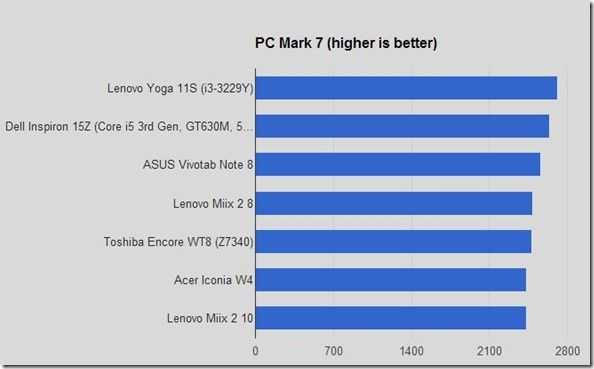 Acer Iconia W4 PCMark7:2433
3DMark 06
On this 'sample' product which was not updated and not refreshed for these tests we could not get 3DMark06 to complete successfully but you should expect scores around 1500 based on other Baytrail-T platforms we've tested. Variance among these devices is minimal for this test.
Peacekeeper
Peacekeeper (by Futuremark) is a useful online test to note if you're interested in working within a browser. In our test we saw a Peacekeeper score of 1123, a good score for this class of device.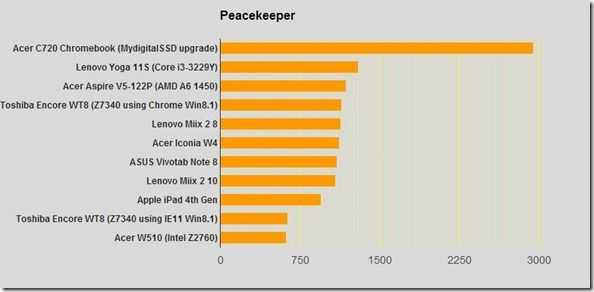 Sunspider 1.02
In a Sunspider 1.02 JavaScript test the Acer Iconia W4 completed the suite with a 601ms score. That's significantly better than the Dell Venue 8 Pro at 776ms and could be highlighting the Dell's memory bus disadvantage.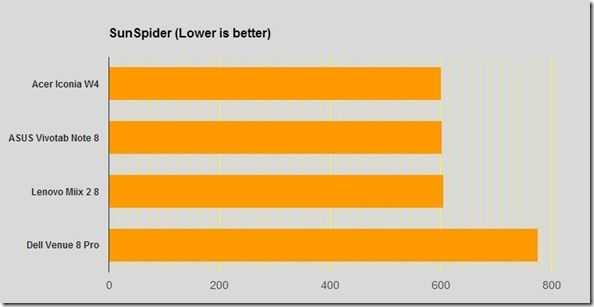 Specifications, Images, links, videos, comments and more information can always be found through our database on the Acer Iconia W4 information page.
Battery Life
The Acer Iconia W4 has a 19Wh multi-cell unit inside which is well above the 15.5Wh of the ASUS Vivotab Note 8 and above the Lenovo Miix 2 8. The powercfg batteryreport figures show a weekly average figure (for the week of testing) at an average 8hrs 26mins. Connected standby (screen off, connected) for that week was 138hrs. An 8.5hrs average is good and more than the Lenovo Miix 2 8 but it should be noted that Windows 8.1 devices on the Baytrail platform can have power profiles that range from under 1W to over 6W depending on usage and screen brightness.
We also measured some usage scenarios:
Video playback (Windows 8 Video app, FullHD, 50fps, 30Mbps) with lounge-level brightness 30% volume, WiFi off (Airplane mode) used over 5W which is way above expected and leads us to believe that the hardware decoder was not being used.
Background battery life with lowest screen brightness, WiFi off, idle usage, was about 1.4W usage for over 13 hours.
3G-on background battery life with lowest screen brightness, WiFi off, idle usage was about 1.89W for about 10hrs usage.
Continuous browser activity. (Peacekeeper web test) average 3.5W = 5 hours 30 mins total battery life.
Again, like all Baytrail-T tablets there's a range of power usage between idle and fully active. The Continuous browser activity test is a heavy load test and we would expect normal screen-on life, which includes a lot of short-term idle time, to match the reported 'powercfg' results of over 8hrs activity over a full days 'always-on' usage.
How to get a battery life report on Windows 8
Battery Charging.
Battery charging is via MicroUSB port and a 2A charger. Screen-off charging rate is about 3 hours for a full charge.
WiFi Performance
In a side-by-side test against the Dell Venue 8 Pro the Acer Iconia W4 didn't remain connected at as high a rate but in transfer tests the performance was good in our test location a few walls away from an 802.11n WiFi hotspot (2.4Ghz band) with few other hotspots in the area. We experienced no drop-outs.
3G Performance.
3G performance appears to be good. We tested on two 3G (HSPA+) networks in Germany and reception was generally as good as other 3G-enabled PCs we've used. Windows 8.1 can allocate the connection as a 'metered' connection which prevents operations like Windows Update using up your data allocation in the background. Having said that, please note that it's still very easy to use a lot of data over 3G/4G on a PC. We' would like to see Microsoft introduce more controls for this in the future.
We saw a (rounded) maximum 8Mbps download and 2Mbps upload in a SpeedTest.net test but 3G results will always vary on location, network and time of day.
Windows 8.1 and Skype over 3G?
According to Microsoft, Windows 8.1 enabled the use of Connected Standby with 3G connections. We tested Skype many times to try and get it working over 3G but it didn't work. We checked permissions and even tried setting 3G to 'unmetered' but it still didn't work. Skype over WiFi in connected standby / InstantGo works. The only thing we could not be sure of was the state of the drivers and build as we are dealing with a 'sample' device here that has not (and can not) be restored to factory settings. If you've got an Acer W4 with 3G please let us know if you have success with incoming Skype calls over 3G when in Connected Standby / InstantGo.
Acer Iconia W4 Accessories
Here are the current accessories and approximate street prices. Both keyboards are shown in our video here.
Crunch cover / Stand – 20 Euro
Bluetooth keyboard – 55 Euro
Crunch Keyboard – 55 Euro
Capacitive Stylus – 20 Euro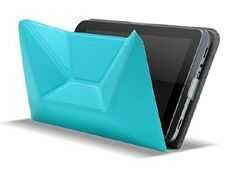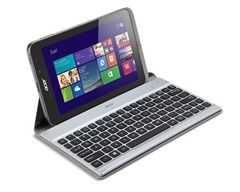 Other notes
There is no NFC support.
GPS hardware is included. (Broadcom GNSS module)
Micro USB converter cable included.
Microsoft Office Home and Student license included, but not tested.
Heat and Noise: This is a fanless tablet with SSD so there's no noise at all. No heat was detected during the test period.
Specifications, Images, links, videos, comments and more information can always be found through our database on the Acer Iconia W4 information page.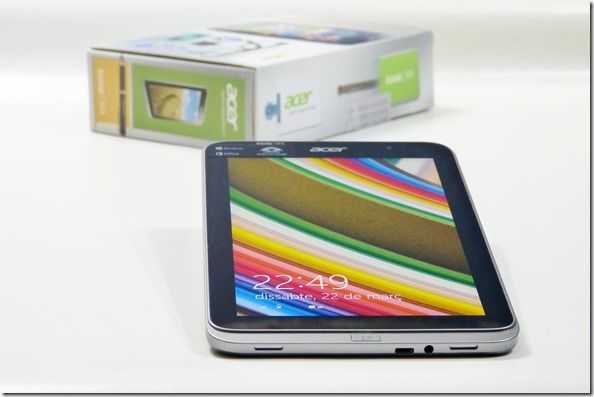 Target customer
In general it's fair to say that Windows 8.1 tablets are for the more adventurous tablet user although as a mobile browser there's a huge amount of power and quality available. Games and other applications in the Store are quickly improving and most requirements are catered for. The desktop is, as ever, difficult to use with a finger on a touchscreen but with some additional UI configuration it's possible to have a reasonable experience. The Acer Iconia W4 is one of the heavier and larger 8-inch tablets though and for those just wanting to consume, it's not recommended. The HDMI port and 3G availability (there are no other 3G-enabled Windows 8.1 8-inch tablets available in our European region that w know about today) coupled with a large battery mean you've got the flexibility that also appears in the Toshiba WT8. The screen is better on this Acer W4 and you've got the interesting keyboard options. As an ultra-mobile and connected PC it's clearly a winner with 3G so if you're the type that likes mobile PC flexibility and connectivity, the Acer Iconia W4 is for you.
Summary
The Acer Iconia W4 is flexible and comes with good battery life but if you're just looking for a basic tablet it's difficult to recommend the W4 over something like the Dell Venue 8 Pro. Where the W4 comes into its own though is where users are looking for HDMI connectivity, a strong battery and the 3G data option. Combine that with a choice of two mobile keyboards and you've got the best ultra-mobile PC we've ever tested.
The model we tested costs 379 Euros in Europe (Acer Iconia W4-821P 3G 32GB (NT.L37EG.005) including all taxes.
Specifications, Images, links, videos, comments and more information can always be found through our database on the Acer Iconia W4 information page.
The Acer Iconia W4 was kindly loaned to us by Acer Europe.
Pages: 1 2