Dell Venue 11 Pro Review Page 1
Performance
Using a Baytrail-T Z3770 processor at 1.46Ghz the Dell Venue 11 Pro provides a relatively low-end PC performance but one that is still good enough for an acceptable desktop experience. Writing this part of the review on the Dell Venue 11 Pro was just as productive as when writing using an Ultrabook but you would expect that from this low-end task. When moving to photo management you start to notice a speed difference but it's not until you load up 4 or 5 programs that you feel some enjoyment or productivity is lost due to the limits of Baytrail. We've taken a close look at the performance of the disk, CPU, GPU, battery and other features below.
Disk Speed
In our SSD test we turned off Bitlocker encryption and ran CrystalDiskMark.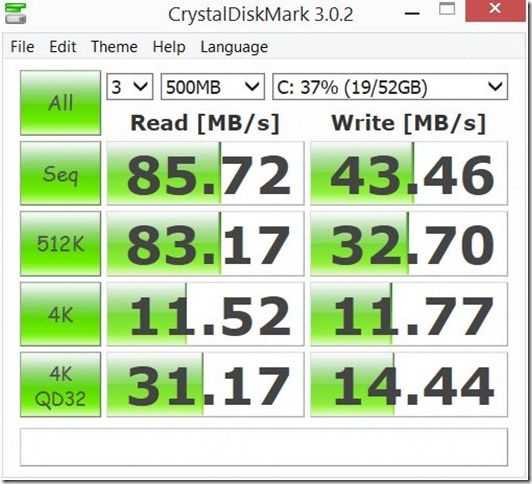 The SSD speed is reasonable but does not have the fastest read and write speeds we've seen. The 4K read and write speed, however, is good and that's important for the general operation of a Windows operating system.
SD Card Speed
Using a 64GB SDXC (Sandisk) card we got a maximum of 23MB/s read speed and other speeds much in line with other Windows-on-Baytrail tablets. Windows 8 Pro gave us the ability to enable Bitlocker-To-Go encryption on this drive.
Cinebench
Cinebench 11.5 CPU: 1.47
Cinebench 11.5 OpenGL: 6.14
The Cinebench 11.5 CPU score is well above the scores we see with the 8-inch Windows tablets and even above the Core i3 Ivy Bridge CPU of a 2013 Lenovo Yoga 11S.
The OpenGL result of 6.14 is close to the scores we see on the Z3740-based tablets. As a reference point, current Ultrabooks with 1.6Ghz-2.4Ghz Core i5 are scoring around 20 on this test. Some desktop games will work but you'll need to choose carefully. 'Modern' Store games should work without problems.
PCMark 07
Our PCMark 07 test uses the basic suite of tests that include video decoding, disk speed, browsing speed, CPU speed and graphics speed. The test is a good sign of how a device will perform in general office-like scenarios. The score of 2670 is better by about 10% than the Z3470-based Windows tablets and impressive for such a small PC. It even beats the hard-drive based Dell Inspiron 15z Ultrabook.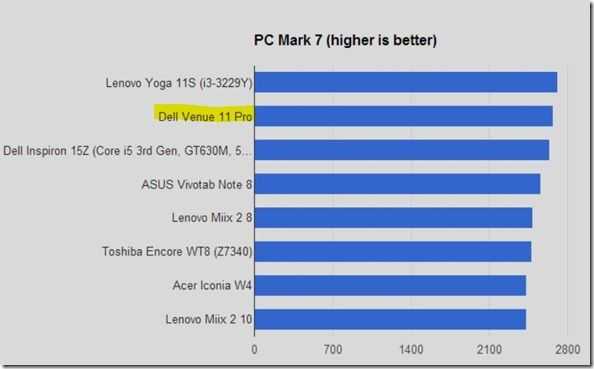 Dell Venue 11 Pro PCMark7:2670
3DMark 06
We generally don't run this test on the Baytrail-T tablets but seeing is this is the first time we've had a Z3770-based device we ran the 3DMark06 test and saw a score of 1887 which is under 30% of the score that an HD4400-based Ultrabook would return. Clearly this isn't 'good' for gaming but the Modern-based games and even some well-chosen, well-configured older games will work OK.
Peacekeeper
Peacekeeper (by Futuremark) is a useful online test to note if you're interested in working within a browser.  In our test we saw the Dell Venue 11 Pro return a Peacekeeper score of 1441 which again is faster than the Z3470-based tablets. In terms of power/value though the Acer C720 Chromebook provides much more browsing power for a lot less money.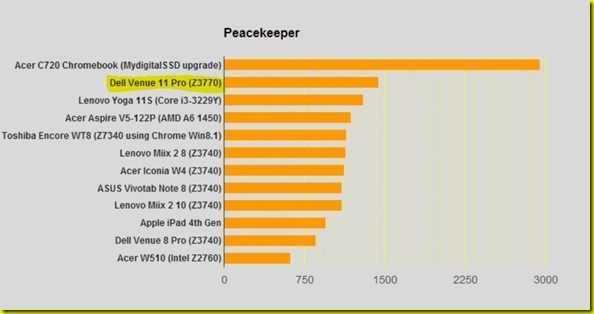 Sunspider 1.02
In a Sunspider 1.02 JavaScript test the Dell Venue 11 Pro completed the suite with a 508ms score. That's significantly better than the Dell Venue 8 Pro at 776ms and about 10% faster than the Z3470-based Windows tablets. Intel Core-based Ultrabooks can return scores under 200ms for this test.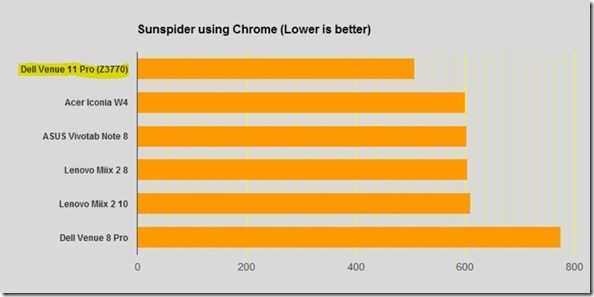 Specifications, Images, links, videos, comments and more information can always be found through our database on the Dell Venue 11 Pro information page.
Battery Life
The Dell Venue 11 Pro tablet includes a '32Wh' battery pack that showed 30Wh capacity within Windows 8 'powercfg' reports. The keyboard option we're using here has  a 25Wh battery so it's fairly easy to predict that the average working  (desktop, office, images, browsing + Modern apps in background) battery life will be around 10hrs. Video battery life would be around 12-14hrs depending on screen brightness. Screen-off music streaming would last for days and you could play Modern games for about 6-7hrs. For tablet-only browsing and Modern apps, expect about 9hrs of casual usage. These figures are based on our experience with the platform. In our measurements, shown below, we've seen nothing that deviates from standard Baytrail-T figures. Only the screen size (at high brightness) is going to cause a difference.
Changing the battery pack is simple but the snap-on over isn't easy to remove or replace.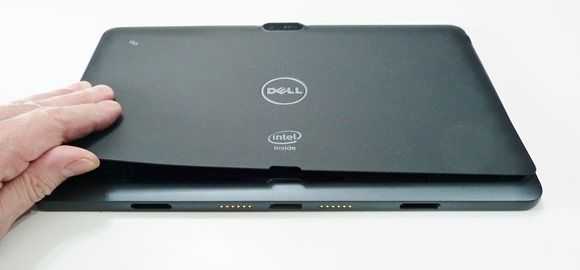 A full gallery of our images can be found here.
The powercfg batteryreport figures for our performance testing work (periods of testing followed by periods of idle) showed about 14hrs of predicted battery life. Connected standby (screen off, connected) figures show between 200 and 500 hours. Obviously this depends on what apps are running in the background.
We also measured some usage scenarios:
Background battery life with lowest screen brightness, WiFi off, idle usage, was about 1.9W usage (best case = over 24hrs of screen on with keyboard power)
Browser-based activity. (Facebook, Google Plus, Tweetdeck, Searches over 5 minutes, 50% screen brightness) 4.3W = Just under 7hr tablet-only battery life or about 12hrs of tablet+keyboard battery life.
Dell quotes +50% battery life for the keyboard battery but we think it's slightly better than that. Unfortunately we didn't get enough time to do a full tablet+keyboard battery rundown test.
Like all Baytrail-T tablets there's a big range of power usage between idle and fully active and with this relatively large bright screen the battery life figures depend on how low you can keep the screen brightness.
An additional 32Wh battery costs $79.99 at Dell.com
How to get a battery life report on Windows 8
Battery Charging.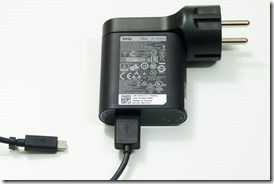 Battery charging is via MicroUSB port on both the tablet and keyboard dock but, if connected, the keyboard dock will charge when the tablet battery charge has reached about 80%. (Which preserves tablet battery life.) Charging rates are slow compared to laptops and a full charge can take 5-6hours. Use a second 2 amp charger on the keyboard to do fast concurrent charging.

WiFi Performance
Our normal testing location is two walls from our hotspot. WiFi reception was acceptable although appeared to drop to 802.11g which was unexpected. 300Mbps 802.11n  on 2.4Ghz was working when closer to the hotspot. The adaptor settings didn't allow us to choose 5Ghz, single channel or any particular 802.11 standard but it works acceptably and that's the most important factor.
Other notes
NFC is supported.
3G slot is inside the unit.
Microsoft Office Home and Student license not included on our test model but we understand that it is normally included with the Baytrail version. (Model 5130)
Heat and Noise: This is a fanless tablet with SSD so there's no noise at all. No heat was detected during the test period.
128GB SSD option.
No 4GB RAM option or 64-bit OS option at time of review.
Tablet can be placed reversed in the docking keyboard (but will not connect to the keyboard or battery.)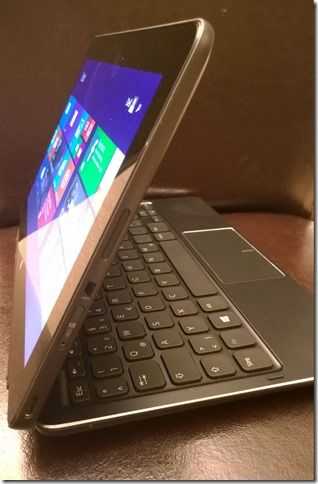 Specifications, Images, links, videos, comments and more information can always be found through our database on the Dell Venue 11 Pro information page.
Target customer
The Dell Venue 11 Pro is an exciting development for Windows 8 2-in-1's. The Intel Z3770 CPU brings enough power to the package that basic productivity isn't hindered, a removable battery increases flexibility and the build quality is excellent all-round.  This is a tablet that excels in offering pro-level options too so customers looking for a work-focused tablet that offers consumer functions as a bonus will be really happy with this. The keyboard option impresses and although it doesn't offer the most battery life per dollar, it's certainly the king in the 'pro' tablet space. 1.4KG of total weight is the trade-off there though.

Summary
Both the Dell Venue 11 Pro tablet and the 'power' keyboard are very high quality items of computing kit and elevate the package to professional status. Huge battery life and flexibility of options, a great screen and enough processing power in this 'Baytrail' version that it's going to satisfy many pro-mobile customers. This isn't a high-performance Windows tablet though and it's also too heavy to be a consumer-only tablet but it's a great balance of efficiency and performance for those looking for productivity on the go. For those not on-the-go, the USB3.0 port works well with DisplayLink docking solutions. Look for 'package' offers on the power keyboard and consider a lightweight Bluetooth keyboard if you want to keep the weight down.
Specifications, Images, links, videos, comments and more information can always be found through our database on the Dell Venue 11 Pro information page. A full gallery of our images can be found here.
The Dell Venue 11 Pro was kindly loaned to us by Dell.
Pages: 1 2