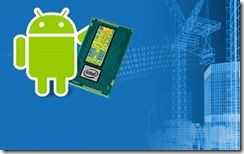 The Intel Developer Forum in Shenzen has just come to a close and I'm trawling through some interesting slides that were presented in the sessions. There's a few articles queued-up but here's one related to Android that is stimulating my thoughts about the future and battling with a very positive attitude I have about Windows following day 1 of BUILD.
Intel have set up a new Android-on-Intel site at 01.org and the latest AOSP build, 4.4 KitKat, is available for download.
First, here's the relevant part of the IDF day 2 press release:
Intel's broadening focus on Android includes a new, comprehensive device developer program that will be rolled out over the next few months. As part of the program, a device developer resource portal is available today as a one-stop shop for all Intel resources, including source code, documents and specs for Android on IA. Intel Build Tool Suite for Android will also be available in the coming months to automate the configuration and customization of Intel firmware and operating system images for new devices. Local resources such as builder training events, local support teams for developers and academic programs to train tomorrow's designers are offered through the program.
Intel also released Android KitKat 4.4 with a 64-bit kernel optimized for IA. With this release, the company ported, validated and tested the Android Open Source code on IA, taking on the work that developers typically would need to do on their own. This release will provide the ecosystem with 64-bit kernel support for development of next-generation devices. Fisher said Intel will regularly make Android code for IA available as part of the company's effort to speed up the device development process and improve quality.
As you can see, Intel are increasing efforts to court device and product manufacturers and to encourage them to put Android on the i86 platform.  From Baytrail to Core-based PCs there's some interesting possibilities out there.
The latest download available is Android (open source project) 4.4 which has been built for two specific pieces of hardware. The Dell XPS 12 and the Intel NUC (*1)  which means there's not much flexibility for us tinkerers but as time moves on, the builds will improve and become more generic so we'll be able to start hacking together our own dual-boot systems. I'm particularly looking forward to a Baytrail-T build that could go on the 8-inch Windows tablets and the resulting community that would build around that considering the number of 8-inch Windows tablet sold recently.
A company that's already doing this is  iConsole.tv  We spoke to Christopher Price about Android on Intel back at MWC and I came away thinking that gaming could be a great reason to boot into Android.  I contacted Chris again today and he had some interesting comments about the Android build:
"The Android-IA build is strictly for developers. Really this is about giving the community (startups and big companies alike) the tools to build the next generation of Android platforms and services for users on Intel processors. Ordinary people really shouldn't use it – it lacks most of the user functionality that makes Android enjoyable. It's big news, but it'll be a few months before it trickles into tangible stuff for geeks and ordinary people alike."
Having downloaded Android 4.2 and run it up as a live USB image on my Ultrabook here I can confirm it's sparse. Naturally the Google service layer is missing but it would have been nice to see an alternative store installed. Maybe Microsoft/Nokia can give Intel a hand with the service layer through the Nokia-X project. It sure would be interesting to see a competitor to Google in the Android space although seeing as Android is a trademark of Google, that would probably result in the Open Handset Alliance exploding!
https://01.org/android-ia/downloads/2014/android-4.4.2r1-ia0
(*1) Does anyone know what the "NUC with Intel Centrino N2840" is? It's mentioned on the download page. I assume they mean the Celeron N2820 NUC available for $140 shown on the right? I'm ordering one for testing here as soon as it's available.