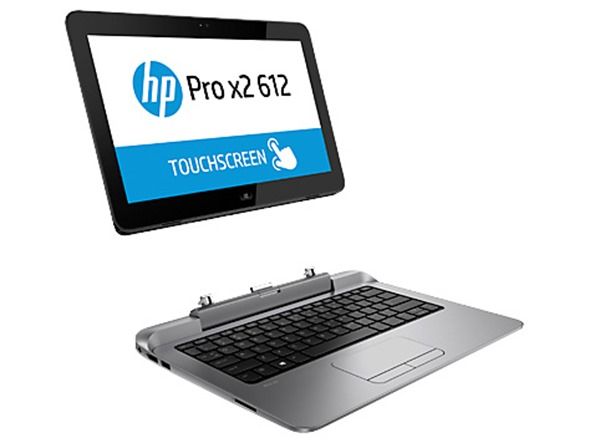 As I continue my review of the HP Pro X2 410 G1 [first impressions] I'm acutely aware of what's going on around it this week. The Surface Pro 3 and new products and announcements at Computex have us all thinking about larger-screen tablets and 2-in-1s. One competitor was from HP themselves as Microsoft held up the Pro X2 612 on stage at their keynote.  It offers a full HD screen, SSD and Wacom options that aren't available with the X2 410. It also offers a range of CPUs that start with a Celeron (4th gen Core) and go up to Core i5.
Full specifications are available at HP's Indian website and they show that it's only the Y-series Haswell CPUs (lower clocked) that are included which could mean this is fanless like the Pro X2 410. 8GB RAM option, SSD up to 256GB, 1366×768 option and a huge array of ports which include DisplayPort and VGA on the power keyboard. The power keyboard is spill-resistant and backlit and, like the 410 G1 has a 25Wh battery inside taking the total tablet+keyboard capacity to 55Wh. That should be enough for about 8-10 hours of productivity.
The Pro X2 612 is very much laptop-first as the tablet weighs 1KG. We don't see a stand and there's no obvious stand mode or tent mode that could help digital artists. Maybe the screen can be mounted in the reverse direction? Total weight goes up to 1.85KG for a the tablet and power-keyboard combination which is 30% or more than some 13-inch Ultrabooks. 
A travel keyboard option will be available but note how the power keyboard sticks out behind the tablet by a good 20-30mm. As on the new HP Split X2 (consumer variant) design it's going to help lap and screen angle stability.
Engadget have had some hands-on with the HP Pro X2 612 already and are happy with the keyboard. I would be wary of the 14hr runtime claim. Runtime, yes, worktime no in my experience with the platform. This is a business-first product so you'll probably only see a few variants reach consumer channels. Additional options such as SmartCard reader, fingerprint reader and 4G data might only reach customers on a business project basis.