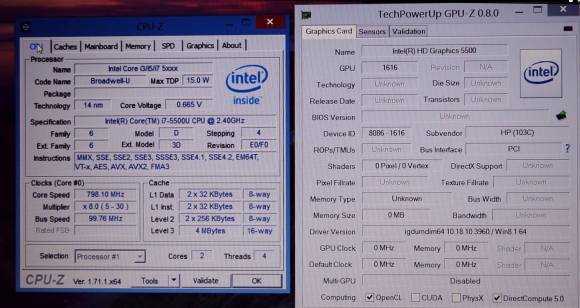 Haswell-U series processors were the ultimate generation for Ultrabooks. The goal was to have an SoC with usable integrated graphics in a 15W TDP and it delivered. It delivered great battery life through the new power control architecture, fast video conversion and optimisation hardware and 'always-on' through the Microsoft InstantGo feature on Windows 8. The next generation of that CPU, based on much the same architecture as the Haswell-U generation, is just about to reach the market and in just a few days we're expecting the first real hands-on with products and prototypes based on Broadwell-U. But just how much better is it going to be? A recent test of a new HP envy 15 with the Core i7-5500U processor gives us some clues.
A process change from 22 to 14nm decreases die size and reduces power leakage which means you get more efficiency. When we transitioned from Sandy Bridge to Ivy Bridge we saw 10-20% CPU performance improvements for similar processors based on better Turbo capability – the 'overclocking' capability of the processor. If the heat stays low, the CPU can Turbo Boost for longer. We also saw a slight change in the graphics architechture in that Sandy Bridge to Ivy Bridge update and that's something we'll also see in the move from Haswell-U to Broadwell-U. In addition to that you're going to see hardware audio decoding and processing which will reduce power usage further in some scenarios, like watching a film for example.
In a test by The Dave Experience on YouTube (shown below) we see a 4th-gen (Haswell) Core i7 4510U (nominal 2 Ghz) going up against a new 5th generation (Broadwell-U) Core i7 5500U with a nominal 2.0 Ghz clock. The new Broadwell-U CPU was found on an HP Envy 15 in retail shop stock and it's the same processor that will appear in the high-end models of the new ASUS Zenbook UX303. The GPU clock frequencies are slightly different so a direct comparison of graphics performance is not easy. At best though we're seeing 20-40% improvements on graphics performance and that's totally dependant on Turbo Boost. Comparing the two processors on two different mainboard and chassis designs doesn't give us any conclusive figures but with 3D Mark Vantage clocking in with the new HD 5500 GPU at 5,124 points we've at least got a new bar for this performance test using an Ultrabook-class processor. The HD 4400 GPU compared only reached 3,800 points. The graphics score improvement seen here is nice but it's not going to allow these low-power processors to break through into true PC gaming. 
In just a few days we're going to get more information if the CES build-up teasers are anything to go by. A principle engineer at Intel and closely connected with performance testing on this platform teases us..
@chippy see u at @CES2015 … Get ready to challenge commonly agreed numbers :-)

— Francois Piednoel (@FPiednoel) January 2, 2015
His tweets are personal but I know there's going to be some private testing going on for invited journalists and bloggers in Las Vegas. Expect official intel figures to reach the public on the 6th Jan and for sneaky hands-on testing on the showfloor with pre-release models after that.
We're watching CES closely for Ultrabook references. We're not expecting much direct Ultrabook news as that marketing gig has finished for now but references might be made and of course, you're going to see a number of products coming into the sector even if they're not being called Ultrabooks. In terms of Core M coverage, that will be a UMPCPortal, our sister site focusing on ultra-mobile PCs.
Hat-tip: Sweclockers.