There's no best ultra mobile PC, just the best ultra mobile PC for YOU.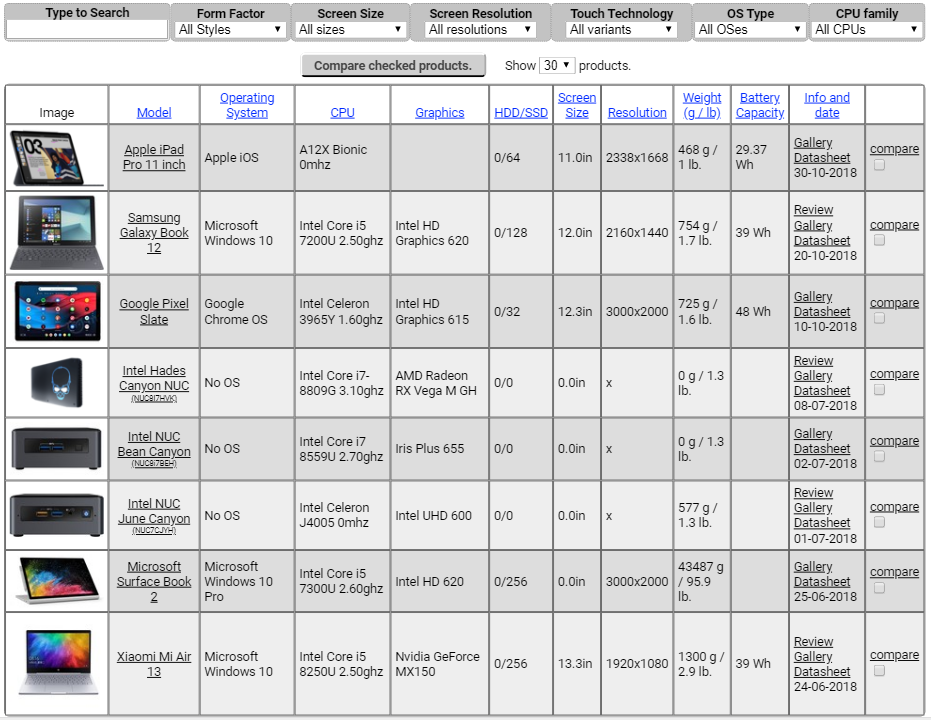 Despite tech websites telling you what THEY think is the best solution for your needs, it's still up to you to know what you want and to sort through all those lists to see if a product matches your requirements. Now, instead of starting with someone else's top 10 you can make your own.
The product overview page on the UMPCPortal product database has always been interactive; Allowing you to type a search term, sort by clicking on the column headers and choosing a form factor but now there are new features that will help you make your top-list even tighter. Choose your desired screen size or resolution, the operating system and even choose a CPU family. If you want to see all the new Broadwell-architecture mobile PCs, just select it via the CPU Family selector.
The improved selection features are one of a big number of changes that have been made to the site. We've started to integrate benchmark scores and have added comparison pages for popular head-to-heads. You can click on a CPU in the product specifications to find devices running the same processor, we've added more product images and there's a lot of work that's gone on in the background to help speed things up.
We've also pared-down the database and now only include ultra mobile devices that weigh 1300 grams / 2.8 pounds or less.
UMPCPortal has been tracking ultra-mobile PCs since 2006 and it's still the best site for ultra-mobile PC analysis. We think that's worth a moment of your time!
Enjoy the UMPCPortal product chooser and the gems that lie within!