Let's start 2015 with a post about a product that might not get beaten by the end of 2015. It's a product that weighs less than the first touchscreen Windows UMPCs of 2006 and yet includes a Core CPU, full keyboard, 10-inch Full-HD touchscreen and 10+hr battery life. It's the Panasonic RZ4 convertible and it's the best engineered sub 1KG ultra-mobile PC out there. It's expensive and difficult to get hold of but there's technology in this product that you won't find anywhere else in the market.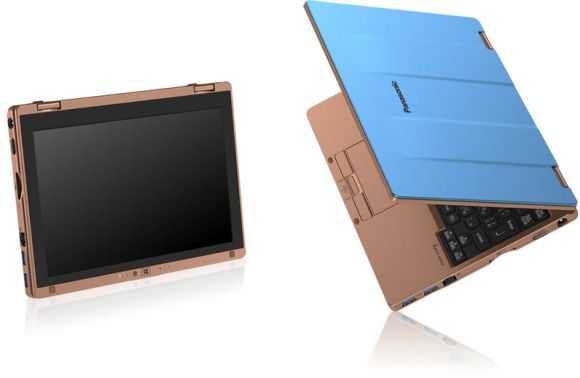 I've had some hands-on with a similar Panasonic designbut the new RZ series takes it a step further than the AX2 of 2013. This convertible PC weighs just 1.64 pounds (745g) which is the same weight as the first 3G iPad. That's the only comparison possible between the two devices because this Full-HD tablet is also a laptop that runs Windows 8 on a Core M CPU with a 128GB SSD.
The cost is high for this ruggedized convertible with a hot-swap battery but it could replace a desktop PC if you're not into high-end video editing or gaming and the premium versions come with 512GB SSD and a 3-year warranty. We're looking at imports at Dynamism.com and the cost starts at $1749 for a 128GB with 2 year warranty (RZ4A/128.) The premium model (Rz4A/512 with 8GB RAM, 512GB SSD faster Core M 5Y70, Windows 8.1 Pro and a 3-year warranty with accidental damage cover costs a heart-stopping $3799.90. Good engineering costs a lot of money, especially when it's built to order.
"Despite its light weight and 0.77" (19.5mm) thickness, the RZ is designed to pass a 2.5-foot drop test and 220-pound pressure test.  It's ultra-durable, as well ultra-thin-and-light."
We've asked Dynamism to give us details on whether this is fanless and the exact battery capacity in Wh and we'll update when we get that information.
Update: There's a fan. Battery capacity is 36Wh. We have a video hands-on by Mobilegeeks below.
Source: Dynamism.